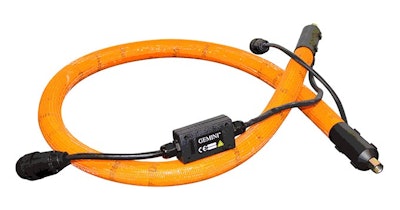 Gemini hot melt hose is currently the only product of its kind available with dual sensors and dual heaters. This configuration solves the problem of downtime and delays that frequently occur when traditional single-strand hot melt hoses fail during use. These available features translate into more uptime, less maintenance, and more efficient operations.
The exclusive back-up heater and temperature sensor of the Gemini activates in the event of a hose failure. If the primary circuit fails, the system immediately alerts the operator to the failure. With the simple flip of a switch, the back-up circuitry can be activated to keep the unit up and running. This assures maximum uptime by switching on the second heater, allowing the hose to continue to function normally until the next preventative maintenance is performed.
The hose is also designed with safety, versatility, and reliability in mind. Each hose unit has multiple electrical ground channels for safe operation, and a maximum continuous operating temperature of 218°C (425°F).
Companies in this article