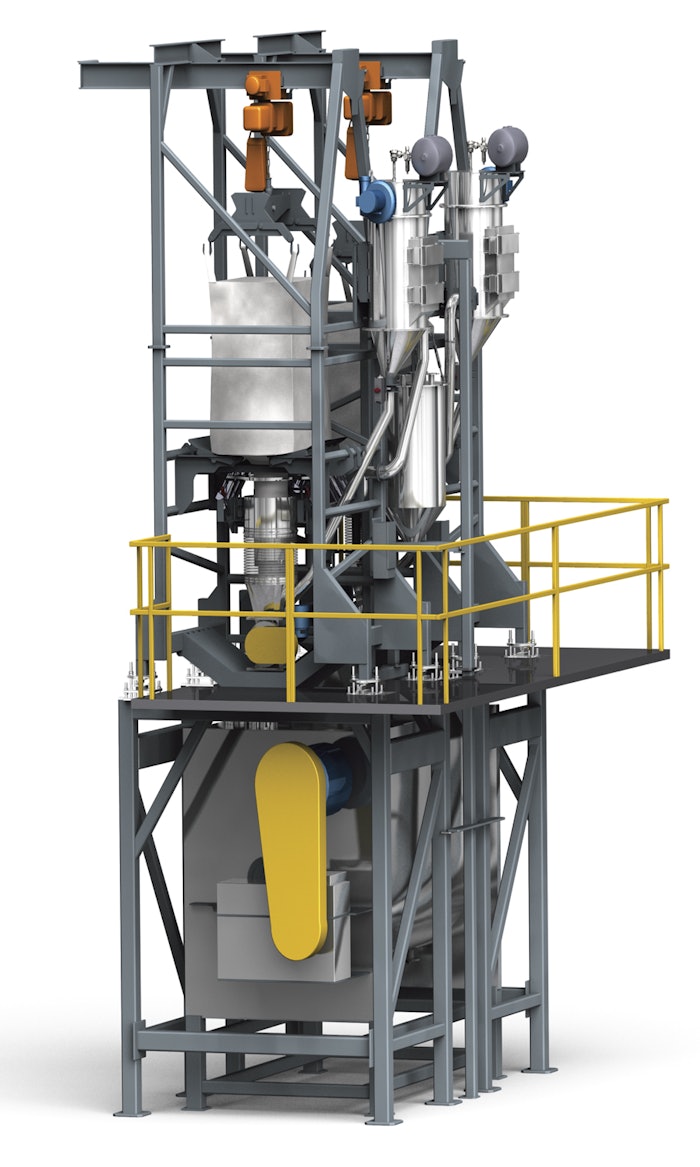 The dual bulk bag unloaders, constructed of 4 in. x 4 in. x 5/16 in. structural framework, each have a 4,000 lb. frame capacity and meet or exceed ANSI and ASME specifications. NBE bulk bag conditioning systems, built into the framework of each bulk bag unloader, reduce total bag cycle process times by 25% compared to free-standing bag conditioning designs.
The liquid supply tank, built of 304-2b stainless steel, discharges the minor ingredient into the blending hopper based the specific recipe and control instruction from the system HMI. The 250 cu. ft. capacity blending hopper is constructed of 304-2b stainless steel and has an integral, 14 gal., 304-2b stainless steel dimpled jacket that is ASME inspected and code stamped for –20 deg. F to +400 deg. F, and 125 PSIG. A thorough material mix is provided by the blending hopper's 10 in. solid main shaft and double-ribbon agitator design.
The NBE controls and automation architecture enable standardized system integration to the facility's SCADA system. Application-specific, operator interaction and process operations risks were identified and properly mitigated by NBE throughout the design, testing, and commissioning stages. NBE expertise in application-appropriate codes, standards, and regulations ensured system compliance at start-up.
Companies in this article