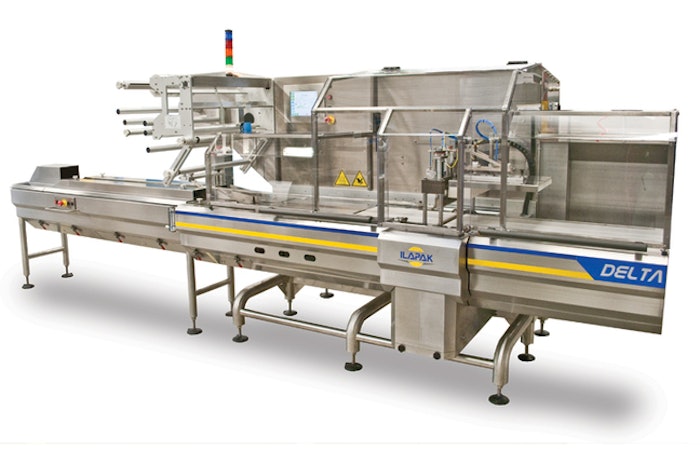 Like the Delta 6000, the Delta 3000 offers complete IP65 protection, enabling full wash down capability, even of the sealing elements. This has been achieved through full stainless steel execution, isolating the electrical cabinet from the main machine frame and smooth, sloping surfaces without recesses. A new digital electronic platform gives precise control over the sealing cycle and parameters.
The machine's competitive pricing has been achieved through modular construction, which allows users to start with a basic machine, and add on modules at a later date.
"For example, customers might opt for a chain infeed to start with and then upgrade to an automatic infeed at a later date," says Somaini. "The beauty of this modular concept is that it is completely flexible and scalable, allowing businesses to adapt to change."
The Delta 3000 is the perfect choice for poultry packers owing to its inherent flexibility - companies can use one machine to pack whole birds or parts (thighs, drumsticks, breasts etc), with or without a supporting tray, and with or without gas flushing.
The flow wrapper can also produce ovenable MAP flushed polyethylene quattro packs - an increasingly popular format in the UK for whole birds.
"The chicken is wrapped, with or without a tray, and the machine folds and seals film on four corners for a box-like effect,"explains Somaini. "The strong seals created by the Delta 3000 enable the bird to be cooked in the bag, keeping in the flavours and aromas and preventing juices from escaping."
In some European markets, such as Turkey, a simple laminate film wrap is favored for whole birds, whilst in others, longer shelf life solutions such as gas flushed barrier films and shrink bags are preferred. The Delta 3000 can run off all of these pack formats, at speeds ranging from 60-100ppm depending on the application.
These flexibility benefits are equally applicable in a fresh raw meat context, to everything from pork or lamb chops to beef mince and barbecue skewers. All these items can be packed with or without tray, with or without MAP, in a variety of films.
"Historically, when it has come to building flow wrappers for the meat and poultry industries, this level of flexibility has been at the expense of hygiene. Now producers can have the best of both worlds: a machine that offers best-in-class sanitary design and absolute flexibility,"says Somaini.
The speed capabilities of the Delta 3000 are more than fast enough for most meat and poultry lines, where upstream butchering and preparation is a limiting factor. However, for highly automated operations, the high performanceDelta 6000 has broken new ground in high speed MAP flow wrapping. The horizontal flow wrapper incorporates a new single jaw, long-dwell sealing system for taking meat packing with MAP up to 200ppm.
Companies in this article