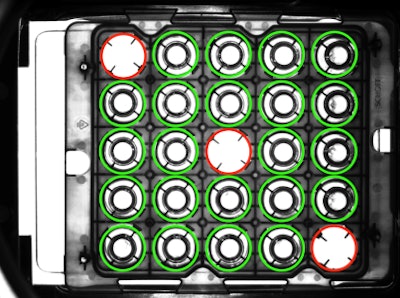 Vanrx Pharmasystems' vision targeting system technology uses isolated robotics in the inspection of entire nests of vials, syringes, and cartridges and their corresponding closures, ensuring quality checkpoints and eliminating human error.
This technology further supports Vanrx' isolated robotics technology in providing a seamless process of fill-finishing injectable devices. In combination with Vanrx' gloveless filling process, the technology eliminates the need for human interference.
Using isolated, high-definition imaging, the vision targeting system senses when components are missing from ready-to-use nests, allowing Vanrx technology to reject defective components. This quality assurance check prevents defective nests from continuing onto the filling process, removing the risk of filling a void, which could potentially cost manufacturers 1mL to 50 mL of expensive medicines.
Vanrx' vision targeting technology provides a more efficient and accurate quality assurance process, according to the vendor. The technology adapts to different nest sizes.
Companies in this article