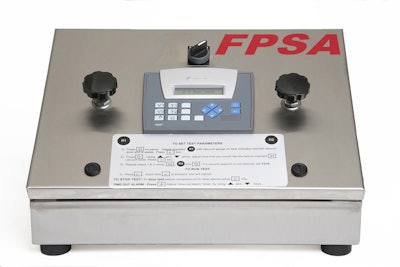 As a follow­up to the recently released FPFA (Fully Automatic), the FPSA consists of a sleek stainless steel independent panel complete with operator interface, all pneumatics and PLC to control the vacuum setpoints and test times.The easy process allows operators to set two independent or successive vacuum level setpoints for Bubble Emissiontests,Vacuum tests, Altitude Tests and Dry Chamber Tests. Operators ca nprogram each test with a countdown timer setting for the length of time required to perform the test. It is simple to operate and provides improved repeatability for the operator. The only connections from the control box to the FlexPak Package Leak Detector vacuum test unit is an air line making the FPSA retrofittable to all FlexPaks or Similar Competitors' vacuum style, bubble test, package leak detectors.
Features of the FPSAinclude:
• Stainless Steel Control box
• Power Supply of 120-, ­240 VAC, 50-­60Hz
• CSA,UL, CE compliant Panel
• Panel designed for wash down environments
Benefits of the FlexPak FPSA unit will be realized by many industries such as those in the manufacture of packaging and end user food packagers of meat, fish & seafood, cheese &dairy, confectionery, snacks, pet food, cereals & baked goods, coffee, medical &pharma and any non­food packaging items where package integrity is critical.
Companies in this article