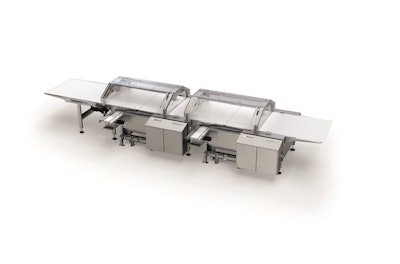 Bosch Packaging Technology's TransverSDI (Smart Distribution Downwards Indirect) is capable of handling high row rates, thanks to its indirect feeding configuration. The movable waiting belt allows for a wide range of applications, including bars and biscuits as well as highly delicate, fragile, or sticky products. It can be easily integrated with Bosch's broad portfolio of packaging systems, such as the low-pressure Pack Feeder 4 infeed system and Pack 401 horizontal flow wrapper.
The distribution belt tilts downward to separate a single row of products from the product flow onto the waiting belt. This product row is then transferred onto the cross-feeding belt immediately after the preceding row has left, independent of the incoming product flow (indirect feeding configuration). To discharge the row, different options can be selected:
• The waiting belt gently deposits the products with horizontal movements onto the cross-feeding belt. This suits the handling of sticky, delicate, or fragile products.
• The waiting belt feeds the products onto the cross-feeding belt at high speed without horizontal movements. This method is applicable for robust and stable products.
With the servo-drive technology of the TransverSDI station, the two options can also be combined: Depending on the product, product rows can be partly deposited with a shorter horizontal movement resulting in a faster feeding onto the cross-feeding belt.
Specifically designed to prevent product damage during the transport and distribution process, the system's tilting depositing function does not require any pushers or stoppers: Rows are aligned by a short horizontal movement with the tip of the movable waiting belt.
The indirect feeding configuration enables high distribution speeds and adds flexibility to the production. Thanks to the movable waiting belt, the system is able to handle double rows or even batches and helps to ramp up the distribution process. As a result, production speeds of up to 120 rows/min—and distribution speeds up to 40 rows/min—can be achieved. The distribution of the products is well balanced and prevents oscillation of the downstream packaging process. To ensure high efficiency and reliability, the TransverSDI features the latest servo-drive technology.
The Transver SDI product distribution station is designed for fully automated format changes and simple adjustment to product-specific characteristics. This results in a short changeover time. Gap closing belts ensure a continuous product flow to the packaging machines. The design ensures gentle product handling and minimized cleaning effort while also keeping maintenance requirements low as no pushers, stoppers, and side guides are needed. Its stainless-steel construction and modular design allow for easy cleaning and maintenance. The waiting belt and cross feeding belt are mounted on a removable trolley, allowing easy accessibility.
The Transver SDI also offers flexibility in the line configuration, as manufacturers can adapt the system to a wide range of applications. For example, product overflow can be re-fed into the last station either at the end of the production (indirect re-feed) or during production (direct re-feed).
Companies in this article