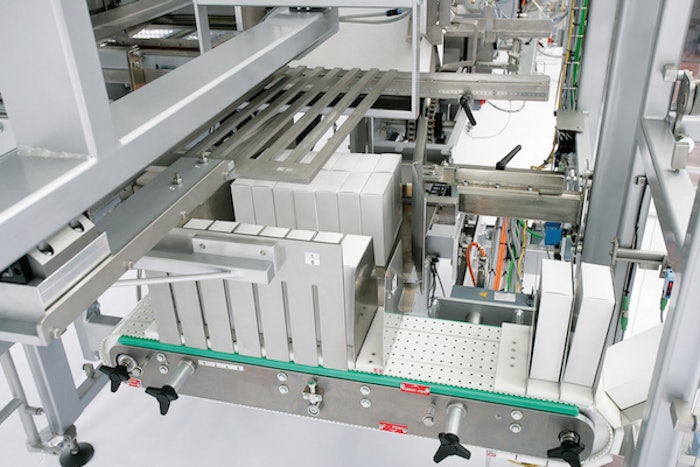 Meypack's VP 453 case packer is designed to end-package folding boxes into trays with or without lids, as well as wraparound cases. The machine can process eight different formats.
The folding boxes, which enter the machine lying down, are erected by a single track paddle chain. The paddles in the paddle chain can be adjusted in such a way that folding boxes of varying thicknesses can be processed in a gentle manner.
Machine maintenance and cleaning are made easier thanks to the open construction of the Meypack case packer, and downtime is reduced. Bearings, chains, and linear bearings are lifetime lubricated while the cable management, including pneumatics, is in accordance with current industrial standards.
The integrated ProBlue Liberty hot melt system that uses Nordson's tankless technology provides long storage possibilities for the adhesive. For quality control, the machine is equipped with the newest generation of the Siemens Simatic S7-1500 control system as well as an expanded machine analysis available through the new Simatic HMI Comfort Panel TP1500. In addition, the machine dynamic is heightened through the integrated, energy-saving SEW Moviaxis-Servo system.
Companies in this article