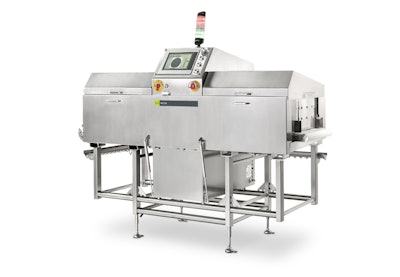 The hygienic design of this system was developed especially for wet cleaning with high-pressure cleaner and disinfecting foam.
The hygienic version features polished stainless steel surfaces both inside the detection area and outside. All welding seams are completely smoothed, and all the larger surfaces are slightly inclined so that water and cleaning agents can optimally run off. Control and display elements such as touch monitor, signal lamp, buttons, key switch, and emergency-stop switch all feature a high IP 66/69K rating for use under the most demanding cleaning conditions. Components such as conveyor belt and radiation protection curtains can be easily removed and are thus easy to clean and maintain.
Like the standard Raycon version, Raycon H+ detects all contaminants that due to their density, chemical composition, or mechanical dimensions absorb X-rays better or worse than the surrounding product. For example this applies to metal, glass, ceramic, and stone contaminants in food materials. The system also detects some types of plastics (e.g. rubber) as well as other product defects (e.g. cracks, trapped air). Desired "contaminants" (e.g. aluminum clips at sausage ends) can be masked out.
Companies in this article