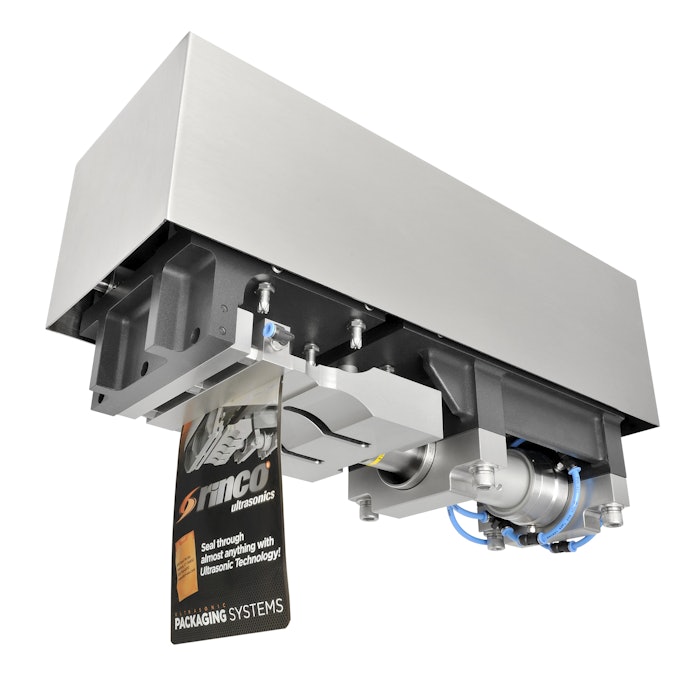 The FPA 4500-T features a single access panel for serviceability and a state-of-the-art wash down resistant coating. It has an IP67 rating and meets food contact regulations.
The overall width of the unit is 7.73-in. compared to its predecessor's– the FPA 4500 –11-in width. This reduction allows the actuator to be utilized easily in duplex and triplex installations.  The FPA 4500-T is made primarily of stainless steel and ceramic-reinforced Teflon PTFE coated components, and also affords a zero clearance capability, which allows a minimum gap between the machine gripper and the leading edge of the top seal.
The FPA 4500-T incorporates the company's patented PPS0145 seal technology.  Each FPA system features a highly-rigid actuator capable of rapidly generating the clamp forces required to seal pouches with minimal cycle time.
Rinco¹s unique PPS0145 interlocking film sealing technology permits seal patterns with large surface areas.  In addition, it allows production of contour-shaped seals.  Because these seals can take almost any configuration, a range of branding options can be used to differentiate products.  This patented seal geometry also eliminates any film or pouch slipping, providing repeatability and reliability of the seal integrity.
The new ultrasonic film creates seals anywhere from 2-mm to 25-mm compared to 1- to 2-mm with the FPA 4500 model.
The patented ultrasonic seal technology is also said to deliver an increase in bond strength over conventional ultrasonics.
The FPA series actuators can be retrofit to convert heat sealing stations to ultrasonic sealing stations. Various sizes are available to suit any horizontal sealing application.
Companies in this article