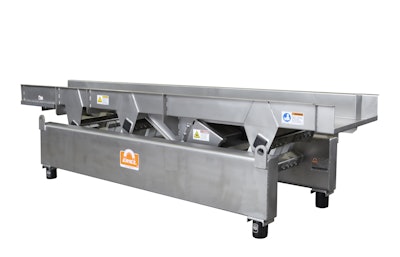 Designed for the food, packaging, chemical, pharmaceutical, and plastics and rubber industries, VMC Series Electromagnetic Conveyors use a two-mass vibrating system powered by electromagnetic drives. These units are useful when longer trays are required.
Specially designed corrosion-resistant fiberglass springs amplify the stroke and are adjustable for easy fine-tuning of the conveyor's motion. With no sliding or rotating parts to wear out or belts and bearings that eventually will need to be replaced, VMC Series Electromagnetic Conveyors require minimal maintenance.
They are available with standard tray sizes ranging from 18- to 48-in. wide by 5- to 20-ft. long. Depending on the intended use, tray liners of abrasion-resistant steel, stainless steel, polyethylene, rubber, and other materials are available.
A variable voltage controller provides precise control of conveyor amplitude. Units are available for base or suspension mounting.
Conveyors include a flow rate of 60 ft./min., an easy-to-clean design, and available 4-20 mA signal following or closed-loop design for precise and efficient conveying of bulk materials.
Companies in this article