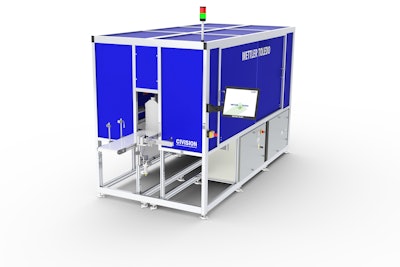 The system inspects individual containers for manufacturing defects, including ovality, shoulder or thread malformation, base and gate formation, etc. It also in-spects the body of each container for material inclusions or malformations that can lead to problems in filling and capping operations and/or unattractive shelf presence that can damage a customer's brand image.
The precision machine vision system achieves proven results by utilizing multiple cameras and proprietary software to complete multiple inspections simultaneous-ly. The system also changes over quickly to inspect new products. Changeover from a 25-ounce bottle to a 250-ounce bottle, for instance, involves 5 touches on the HMI to select the proper part from the system library using a touch screen. The system then moves conveyors, cameras and lights to predetermined opti-mum positions.
Defective containers are inspected shortly after being formed, and defects re-moved from the production line before leaving the container manufacturing facili-ty. The system can also be installed at the entry point to a filling line to inspect incoming empty containers.
The RPC System operates in an over-the-line housing that eliminates problems with ambient facility light that might affect inspection results.

Companies in this article
Videos from METTLER TOLEDO Product Inspection