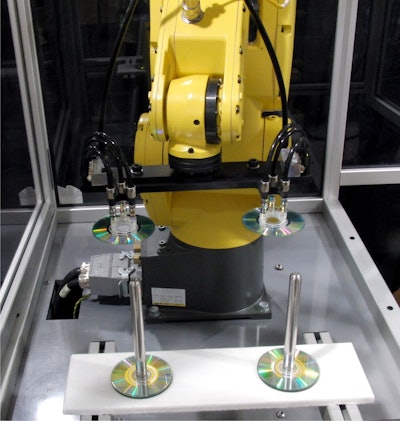 The ESS robotic cell combines a FANUC LR Mate 200iC robot with ESS-designed end-of-arm tooling (EOAT) to create a system that reduces repetitive motion in loading blister sealing machines and other types of packaging machinery.
For the Pack Expo demonstration, the Starview Model FAB8-1418 blister packaging machine will load empty blisters into 1x2 configured sealing fixtures. The integrated TaskMate Robotic Blister Loading System uses custom, vacuum EOAT to pick two CD-ROMs from a fixture and load them into the blisters. The machine then automatically indexes to the card back placement and blister sealing stations. The TaskMate system works in a number of packaging environments, including clean room settings.
The compact tabletop platform design with Category 4 interlocked and gasketed polycarbonate safety guarding and "quick connect" EOAT easily integrates with most process or packaging equipment. Enhanced motion control, speed, vision, and robotic dexterity make the TaskMate system suitable for repetitive pick and place applications.
The robot EOAT can be designed to handle one or multiple products in a single pick. Spreading mechanisms allow the tooling to fan the picked product to fit the any blister platen configuration (e.g., 1x2, 1x4, 2x2, 2x4, 2x5, etc.) allowing the robotic loader to easily match cycle speeds and maximize the productivity of the blister packaging machine.
Companies in this article