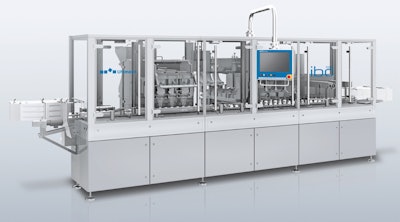 The IBC-120 processes round, rectangular, and oval bottles 45-200 millimeters in height and 25-125 mm in diameter.  In between batches, it can be reset to a different bottle diameter in just six minutes, with no need for format parts and tools. The IBC-120 is streamlined and compact: at five meters in length, its monoblock design combines all the essential functions for the packaging of solid dose products in bottles and makes it, on average, 20% more efficient than line solutions composed of separate components, according to the company. 
The IBC-120 is user-friendly.  The integrated packaging stations are controlled by a central touchscreen user interface--the machine adjusts to new bottle heights at the touch of a button.
Additional features of the IBC-120 include: ability to handle all types of caps; capping unit available with up to three capping heads; 100% counting accuracy using infrared counting system--tablet counter can accommodate up to four counting modules; master shift register to help guarantee product integrity and monitor the bottle discharge; enclosed system to help ensure operator and product protection.
Companies in this article