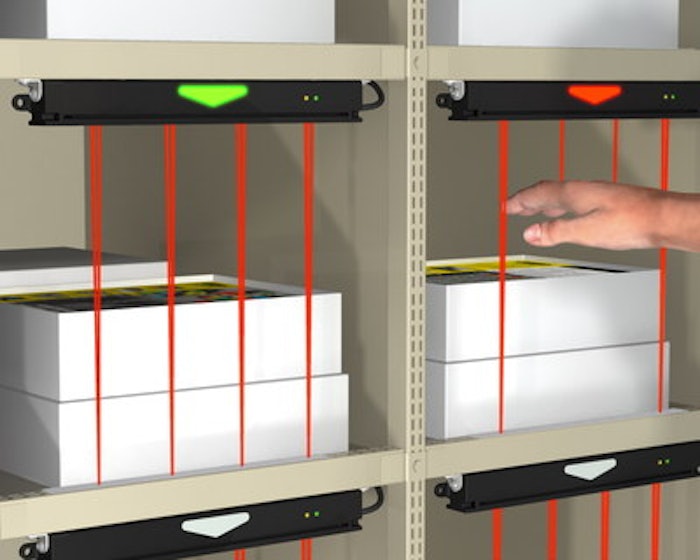 The two millisecond response time and wide coverage area make the PVL a useful solution for applications beyond pick-to-light. The PVL light array features opto-mechanical alignment with bright red emitter beams spaced 70 mm apart for easy set-up and installation. To ensure effective light-guided assembly in diverse applications, the PVL is available in two lengths-- 225 mm (8.9 in.) or 500 mm (19.7 in.)--and can be mounted either vertically or horizontally to racking systems.
Upon applying the supplied retroreflective tape to an adjacent PVL or accessory bracket, the PVL¹s emitted light beams are directed to the tape strip and a highly-visible indicator arrow lights up to notify users which bin to pick from. As the operator reaches into the bin, the light beam is interrupted, triggering an output to the control system indicating the correct parts have been selected. Picking from the incorrect bin causes the arrow to turn red and also sends an output signaling a mis-pick error.
The PVL¹s rugged, all metal compact housing requires no assembly and has large mounting holes to secure directly to a slotted racking system. The slotted housing design allows cable to exit on either end. Diverse, steel mounting brackets are available for tubular or flat racking systems.
Companies in this article