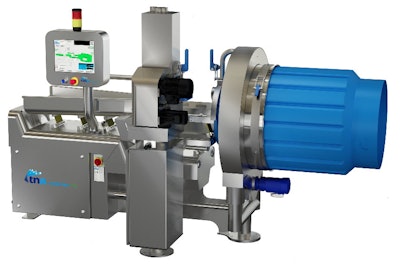 Delivering a combination of performance, simplicity, and flexibility, the tna intelli-flavOMS 5 features a responsive variable mass seasoning system with dynamic vibratory weigher to directly control oil spray and powder flow into the drum. This enables an accurate, proportional amount of seasoning to be evenly applied to the product for improved coverage and flavor dispersion.
The position of the scarfplate on the tna intelli-flav OMS 5 infeed has been enhanced:  it is mounted to the edge of the drum, to better direct the product into the spraying and flavoring area.. Additionally, the newly-designed scalloped infeed conveyor allows more product to enter the seasoning drum, while also helping to control product direction for greater accuracy and reduced waste.
With a simple, modular design, the tna intelli-flav OMS 5 is fully enclosed for increased levels of hygiene and ease of cleaning. A new pivoting drum improves accessibility for hard to reach areas, simplifying day-to-day operations.
Companies in this article