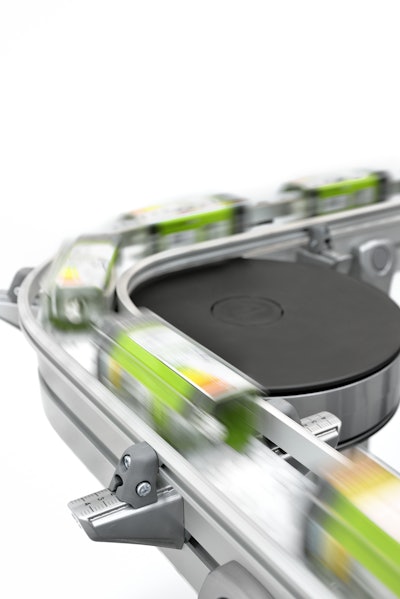 The doubled conveyor strength has a dramatic effect on the service life and maintenance intervals of systems installed. The increased maximum conveyor length results in fewer drives and transfers as well as simpler layouts.
The X65 conveyor is designed for low friction, low power consumption and a long service life. In addition, FlexLink is introducing new high-efficient drive technology to further reduce power consumption. Depending on the application and choice of drive unit, power consumption is 8-44% less compared to previous high-efficiency drive units by FlexLink. The design allows maintenance intervals to be more than double compared.
The X65 is capable of the double speed compared to previous conveyor generations - 120 m/min - reducing cost per produced unit.
In most common applications, the noise level of X65 is similar to a typical office level, and compared to the industry standards, it is up to 80% less, according to the company.
For automated single-piece flow applications, the X65 pallet conveyor system offers high-quality production at low cost. The X65 pallet system features a unique design and standardized functions for the handling of products up to 1 kg. The pallets and functions are prepared for the integration of process control systems, such as track & trace, and MES functionalities.
Companies in this article