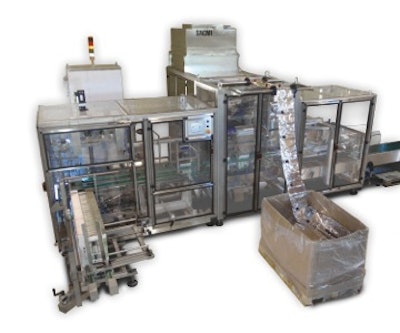 Made entirely of stainless steel, the integrated filling-packaging unit combines carton forming, in-box bag insertion, and hot melt box closure. The unit uses a high degree of automation to provide efficient control of 1.5-, 2-, 5- and 10-litre bags. The unit is user-friendly, requires no supervising worker, and provides vacuum technology to allow evacuation of air prior to filling. The special pouring tap, through which the wine is drawn from the bag, helps ensure the product never comes into contact with air or any other oxidant or contaminant. The same tap, and the standard software for automatic machine steam-cleaning, also ensures ultra-clean management of the entire process.
The Bag-in-Box pack is made of low cost materials such as plastic film and cardboard. The solution is suitable for wine producers, consumers, and restaurant owners--who can continue the Italian tradition of pouring directly to the customer without compromising on product quality while enjoying bulk buying.
Transportation, storage, and environmental costs are reduced as a result of package shape, and materials used--which are less fragile and lighter than glass.  And, Bag-in-Box packs are fully recyclable.
Companies in this article