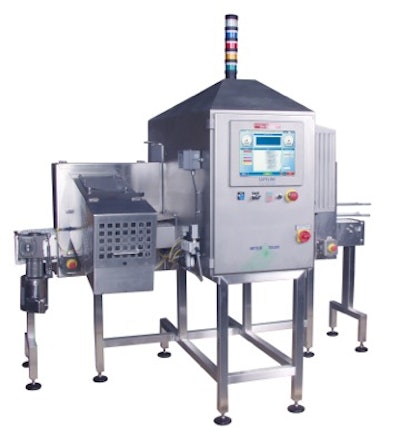 The two available models include the SideChek 200 with a 200 mm height inspection area and SideChek 300 with a 300 mm height inspection area.
The SideChek system detects metal, stone, glass, bone, high-density plastics such as Teflon, and rubber compounds like viton, that can lead to brand image damage and possible liability lawsuits. Contaminated containers are automatically rejected from the line before they can leave the facility. The system's full color 15-in. TFT touch screen user interface and intuitive software simplify operation, with no manual changeover operations or specialized knowledge about x-ray inspection technology.
These SideChek models provide detection for a wide variety of non-washdown applications, including food, beverages, and dry products in sealed containers. The system's modular design includes a user interface and processor that are combined into an easily removable single assembly. Rated NEMA 4/IP65, the equipment's sanitary design enables easy access to all machine areas and can be quickly disassembled for cleaning without the need for tools.

 
Companies in this article