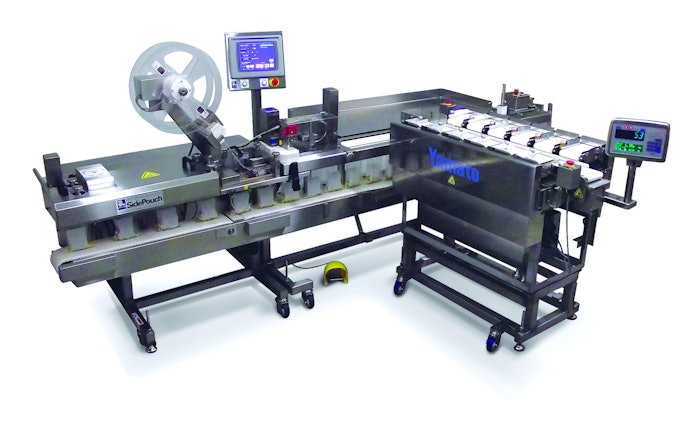 The FAS SPrint Revolution bagger presents a horizontal row of pre-opened bags that are ready for automatic loading from the fully-integrated Yamato Dataweigh TSDW-205W scale. The system loads the weighed products directly into the bag and is suitable for packaging fresh food and fragile products such as grapes, shrimp, fruit, vegetables, beef jerky and other products sold by a fixed weight.
The Dataweigh scale is a tabletop unit with 12 weigh scales, six on each side of a central conveyor. One or two operators manually place products onto the scales and the system automatically calculates the best combination of products nearest to the target weight. The system then discharges the right amount of products onto a central conveyor, which loads the items directly into the pre-opened SidePouch bag. Once the bag is filled, it is indexed, sealed, and delivered to a tote or takeaway conveyor. This integrated system packages up to 30 bags/min.
This new combination weigh scale and bagger is a fully integrated packaging system that improves productivity, reduces weighing losses, and achieves significant labor savings. The unique belt conveyor system uses a small drop, making it possible to transfer fragile products to the bag that would normally be damaged by other scale systems. The ergonomic design is L-shaped for maximum worker productivity and minimal footprint.
The FAS SPrint Revolution and Yamato Dataweigh systems are specifically designed for use in food packaging applications where they are in contact with moisture, oils, chemicals and foods. Stainless steel construction and detachable conveyors provide for fast and easy washdown procedures with non-pressurized hose water.
Automated Packaging Systems also manufactures genuine SidePouch bags, which are available in a wide range of sizes and with a variety of special features, such as reclosable zippers, resealable flaps, reinforced headers, easy-open perforations, and tamper-evident seals. These system-matched bags come in several different materials that can be pre-printed with high-resolution graphics in up to 10 colors, text and barcodes.
Companies in this article