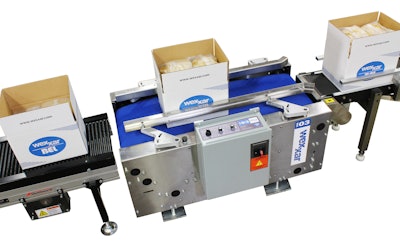 The latest innovation from Wexxar/BEL, powered by Pro Mach, is the new WRC Rotary Case Settling Conveyer for overfill cases which increases throughput in a smaller footprint than other solutions available in the marketplace.
Traditional case settling solutions vibrate or shake overfill cases to achieve product containment. Often they are a separate component in the line that halts transport until settling is completed. Wexxar/BEL's new WRC transports and settles boxes at the same time
 by placing non-circular, rotating shafts under the conveyor belt for a bouncing or rocking motion as the product continues to move down the line. The result is faster, more effective case settling across a shorter distance.
The motion and phase of the settling shafts can be adjusted to attain the optimal bounce or rocking motion needed for the most effective case settling. The solution is ideal for settling and transport of any product packed in an overfill condition for cases or trays. It is particularly effective for hard to settle products, such as potatoes or other similar, irregular shaped products. 
"The bouncing and rocking motion provided by the WRC, which simulates human handling, is more effective than vibration methods and settles overfill cases in less time," says William Chu, General Manager at Wexxar. "Our goal was to achieve effective case settling while keeping the product moving through the line, which saves time and floor space."
The WRC is easy to adjust with simple controls, and is sold in three and six foot lengths. It accommodates a wide range of RSC overfill case sizes and trays. The WRC fits easily into any packaging application. A bag handling attachment option will be available in the near future.
The WRC03 will be on display at Pack Expo International, booth N-4006, October 28-31 in Chicago's McCormick Place.
About Wexxar/BEL
Wexxar/BEL is a leading manufacturer of high quality systems for case forming and sealing for the most demanding packaging operations. Wexxar and BEL products yield the lowest cost of ownership through greater dependability, higher productivity, maximum throughput and a high standard of safety. Wexxar/BEL is headquartered in Delta, British Columbia, Canada. www.Wexxar.com
About Pro Mach
Pro Mach, Cincinnati, Ohio, is a leading provider of integrated packaging products and solutions for food, beverage, household goods, pharmaceutical, and other diverse consumer and industrial companies. Through three business units and related divisions, Pro Mach provides equipment, training, installation, and parts in primary packaging, end-of-line packaging, and identification and tracking. www.ProMachInc.com
Companies in this article