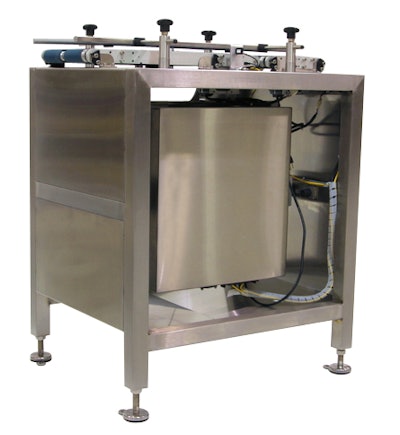 The new stainless-steel TVS 1000 scans a bag or tray for both the presence and proper placement of the label. Then the unit checks whether the barcode can be read, and if so, validates the correct bar code for the contents of the package. Packages not meeting specifications are shunted off the line. The TVS 1000 is capable of reading 21 different barcode symbologies, including 2D.
When an operator selects the product to be run, the TVS 1000 pulls product identification data from the server and then downloads the necessary pieces of information to other machines on the line, including labelers and printers. The unit collects production data on the number of packages passing through the system and the number of positive and negative reads. This unit helps improve the quality of meat, poultry, dairy, seafood, and produce operations.
The TVS 1000 inspects 100% of labeling and printing to ensure the right label and readable barcode is attached to the right product. Accurate labeling helps to lower returns and improve customer satisfaction. It also helps to ensure that those with food allergies have the correct ingredients information.
The TVS 1000 automatically adjusts to different packaging sizes for greater versatility. There is a wash-down version available, and the unit can be ordered in various conveyor heights.
Companies in this article