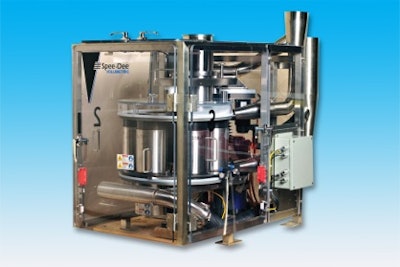 A 40-in. tall profile allows the system to be integrated within very compact packaging environments.  Additional space savings are realized because the system sits directly on the bagger.
With the Spee-Dee-Set Volume Adjustment Motor and in-line scale configuration, package weights gathered by the in-line scale are fed back to the PLC, averaged and compared to target weights.  The PLC is programmed to quickly and precisely regulate volume utilizing the servo volume adjustment, preventing fills from falling below minimum as well as eliminating overfills.  The results are greatly improved repeatability and a reduction in target weight, as well as a dramatic decrease in product giveaway.
The Spee-Dee Advanced Volumetric System, which utilizes a single Allen-Bradley PLC to control both the filler and scale, uses a completely tool-less design.  This enables the unit to be easily and quickly disassembled so that cleaning and product changeover operations are accomplished within a matter of minutes.  Components for the filling and weighing operations are non-proprietary to minimize replacement cost and ensure parts availability.  There are also fewer components within the unit, further reducing maintenance expense.
To promote operator safety, the unit features a safety lock system and is fully guarded with a plexiglass and stainless steel enclosure.
Companies in this article