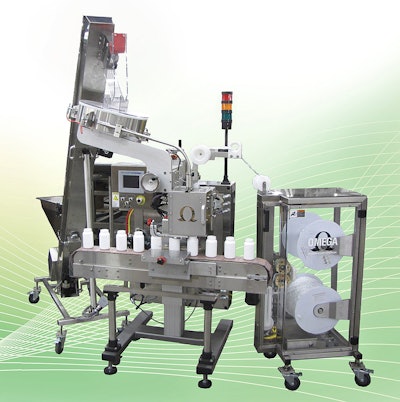 In addition to inserting canisters or pouches into rigid bottles, the equipment can be adapted to dispense desiccants and oxygen absorbers into various packaging solutions, including medical diagnostic kits and medical devices.
The OMNI-Feeder is capable of multiple desiccant drops per bottle, has the ability to run differently sized canisters and pouches, and requires less than five minutes for changeover.  The machine's operation is fully automatic, features an Allen Bradley programmable logic controller (PLC), a touchscreen operator interface terminal (OIT), and a light tower status display.
The feeder's anodized aluminum frame construction provides a small footprint and ease of mobility.  The design features a fixed inner belt assembly with an adjustable outer rail assembly.  Other highlights include a floor-level canister hopper with elevator as well as a dual-reel pouch feed cabinet.  All contact parts are FDA-approved.
Several premium options can be incorporated into the OMNI-Feeder, including conveyors with SCR variable speed drives, a remote canister bulk feeding system, and analog speed controls.  Through the simple addition of optional timing screws, the machine becomes even more efficient, handling the most complicated of processes, such as the rapid feeding of containers with tight opening-to-desiccant width ratios, with ease.  PMMI-certified training is available, as is CE-compliance for manufacturers who must conform to applicable directives in the European Economic Area. 
Companies in this article