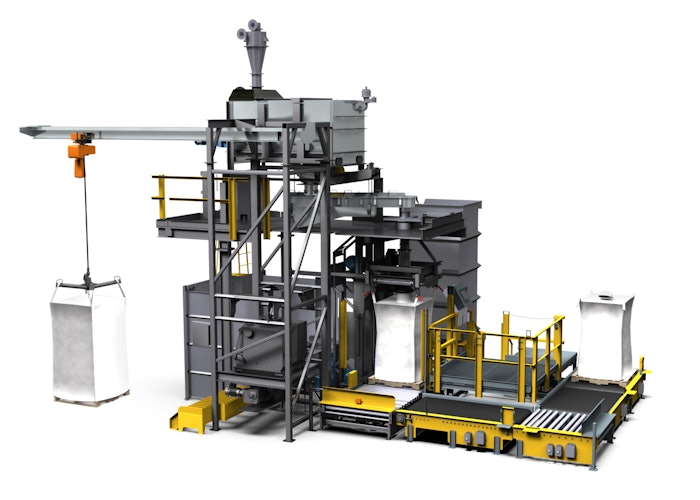 Designed to increase line capacity, improve resource management, reduce operating burden, increase labor efficiency and safety, and extend equipment contribution and performance lifecycles, the station receives input material from an integrated bulk bag unloader; an integrated bag dump station and a vibratory conveyor system enable the material processing operation to effectively transition to an automated, 20,000 lb./hour bulk bag filling process from a relatively low-capacity, operator-intensive, 50 lb. bag filling syste
Multiple materials, all with differing characteristics, including fast-flowing, dusty, sticky, and static-charged, enter the process operation based on the specific recipe selected at the system HMI by the operator. The bulk bag unloader, receiving bulk bags of severely agglomerated material, starts an integrated, automated material conditioning sequence:  massage paddles with 2,200 lbs. of paddle pressure and an agitator hopper prepare the material for supply, via screw conveyor, to the bulk bag filler. For secondary ingredients, a bag dump station, integrated to the bulk bag unloader, enables manual introduction of material to the agitator hopper for conditioning, blending, and supply to the bulk bag filler. The primary ingredient, supplied from downstream pneumatic conveying, is introduced to the bulk bag filling process through a 24-in. wide, 304-2b stainless-steel vibratory conveyor with a total material supply capacity of 20,000 lbs./hour.
Built to be compliance-ready at start-up and to conform to the specific, regulated processes and practices of the Class II, Div. 2, Group G process area, as well as explosion protection and control features for venting, directing, and releasing overpressure.  NBE is the single-source provider of the system's controls and automation, and is singularly responsible for integration of the system controls to the facility's supervisory control and data acquisition system (SCADA).
Companies in this article