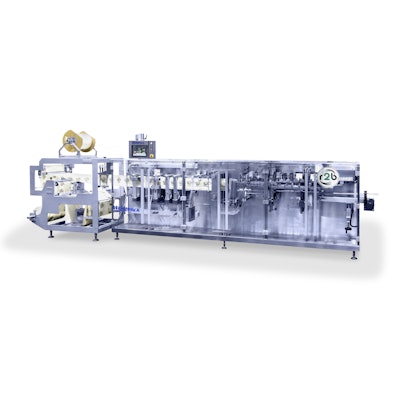 r2b uses affordable laminated roll film stock instead of expensive, pre-made bags and can produce an array of bags including: Pillow, Stand Up, Carry Handle, Center Capping, and Corner Capping with or without zipper closures.
Available in 2 models, the r2b 1200 produces bag widths of 6-12 in. with bag lengths of 8-18 in. while the r2b 3600 produces bag widths of 3.5-8 in. with bag lengths of 6-11 in.
A servo drive provides control and repeatable performance at speeds up to 120 cpm. The straight-flow through design allows the operator to monitor all stations from the operator color touch screen. Large, removable access panels in both the front and back make the r2b extremely easy to setup, clean, and service.
Designed for high-speed, high-output production. Additional features include: an inline walking beam mechanism, no-bag/no-fill sensor, variable speed control, integrated exit conveyor, PLC, and interfaces easily with scales, augers, and liquid fillers. Made with name-brand components such as Telemechanique, Festo, and Schneider Electric.
Companies in this article