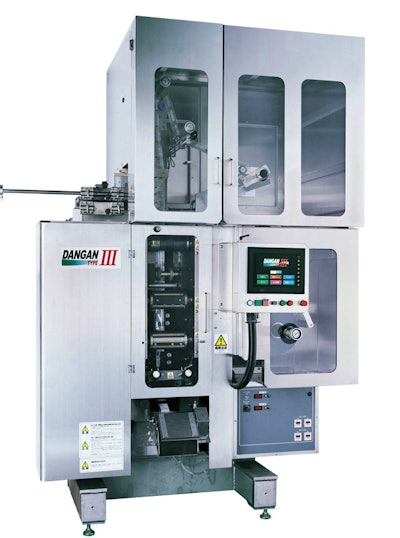 The DANGAN III fills pouches at exceptionally high and sustainable speeds, with exceptional accuracy, and,
when used in conjunction with Taisei Lamick's exclusive film, processing speeds are said to be the fastest in the industry. Pouches hold more liquid than any other pouch on the market, according to the company. Changeover time between sauce packet types (of varying fill dimensions and weights), as well as between liquid types (gravy to fruit sauce), is quick and easy.

Four DANGAN III models are available:  DANGAN III Standard Type features line speeds of 25 m/min. and pouch capacity of 400 pouches/min.; DANGAN III 6 Split/3 Split Bar Type achieves speeds of 500 packs/min. through the mounting of six end-sealing bars; the DANGAN III Double Pack 4-Side Seal Type features twin nozzles for twice the pouch production, or for packaging two different products side-by-side; the DANGAN III Large Capacity Type supports a range of capacities from 5ml to 500ml.

Fast change over, low defect rates and a general increase in speed are achieved when using other films with the DANGAN III. Machines are durable, require minimal routine maintenance, and are easy-to-operate. Custom solutions are available.
 
Companies in this article