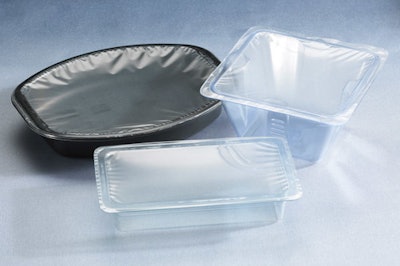 Called StreamOne™ lidding, the structure uses as much as 50% less material and helps companies meet recycling waste stream objectives.
StreamOne™ has been engineered to replace traditional mixed-polymer laminates without sacrificing performance when sealing to polyethylene terephthalate (PET) or polyethylene terephthalate glycol (PETG) trays. Because the material is made entirely from polyester, it can be recycled in the "number one" stream, along with the tray. Traditional laminated combinations can only go in the "number seven" or "other" stream.
Additionally, StreamOne™ lidding represents a downguage of 50% when compared to traditional structures. (These structures are typically 2.5 mils thick, comprised of .5 mil polyester and 2 to 3 mils of sealant.) StreamOne lidding is available in thickness between 1 and 2 mils, with 1 mil PET and .5 mil proprietary polyester peelable sealant.
"Our customers have been requesting a material that is easier to recycle while still meeting performance requirements. StreamOne™ lidding does exactly that," explains Dwane Hahn, director of sales and marketing,
Rollprint
. "Also, because we are using less material, StreamOne™ lidding typically offers cost reduction greater than 15 percent.
Like many of Rollprint's other structures, StreamOne™ lidding has been engineered with a wide sealing window to run on horizontal form-fill-seal units. The lid also has a tamper-evident feature. It turns white at the point of contact with the tray when it is removed without leaving residue on the flange.
Stream One® lidding is ideal for a broad spectrum of gamma-sterilized medical device products such as catheters, syringes, IV connector sets, etc. It can also be used for a variety of consumer goods in PET/PETG trays, such as razors, as well as food applications such as frozen meals.
Companies in this article