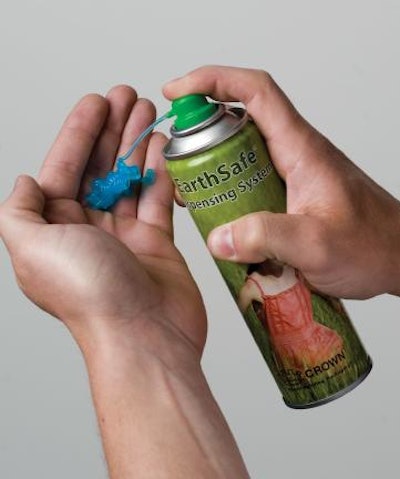 The EarthSafe™ dispensing system was unveiled May 6 by Crown Holdings, Inc. (www.crowncork.com) to provide consumer packaged goods companies with an alternative to traditional aerosol technology that uses hydrocarbons as a propellant. The new package, Crown says, is a direct response to a mandate by the California Air Resources Board (www.arb.ca.gov) to reduce the volatile organic compounds in certain consumer products. The directive, which now has been adopted by nine other sates, is on track to become law by Jan. 1, 2010.

According to Crown, the personal care products market, and shaving gel products, in particular, will be drastically affected by CARB's mandate. The EarthSafe system targets these gel products, replacing the hydrocarbon typically used in aerosol cans with compressed air that not only reduces the product's overall VOCs, but also allows for complete evacuation of the gel product at a consistent flow rate.

The system has been under development for the past 12 to 18 months, in cooperation with Ultramotive Corp. (www.ultramotive.com), the patent holder for the technology, relates Bradley J. Dahlgren, vp of sales and marketing for Crown Aerosol Packaging USA. The system depends upon three main innovations, he relates. The first is a patented, universal, tamper-proof grommet that creates an airtight seal to enable the use of lower pressure to discharge the product. The second is a newly designed, multilayer barrier piston using Eval's (www.eval.be) ethylene vinyl alcohol. This eliminates primary and secondary gas permeation, extending the product shelf life. Third is an advanced valve technology that allows total evacuation of the product at consistent flow rates from start to finish.
The package is available in a 52-mm-dia size, in several heights, and is fully recyclable. The package can also be decorated with unique finishes to enhance the product's on-shelf impact.

EarthSafe technology, unveiled at the Consumer Specialty Products Assoc. (www.cspa.org) 2008 Mid-Year Meeting in Chicago, is expected to be commercial in 2009.

Companies in this article