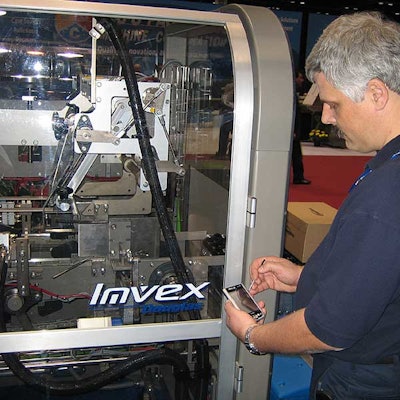 In a corner of the Grand Concourse at PACK EXPO in Chicago, the OMAC Packaging Workgroup booth was crowded with vendor demos, dominated by Ethernet-based network suppliers vying to become the next standard.

But one demo alone stood out, unique because it was the test stand for a real machine introduced at the show, because it was supplied by an OEM sponsor, and because it represented a commercial implementation of the OMAC Guideline known as PackML.

This demo was provided by Pneumatic Scale Corporation, the capping specialist that has in fact delivered machines with PackML to customers. The 2-axis servo capping unit was the actual test stand for its PacDrive™ equipped SC Servo Capper that was introduced at PACK EXPO.

Across the concourse in the South Hall, another OMAC sponsoring OEM, Douglas Machine, demonstrated the ultimate in simple practicality -- PackML information being transmitted from its new PacDrive™ controlled Invex™ case/tray packer by wireless network to a PDA.

Time has come for real machines, not concepts

Both demonstrations were developed in cooperation with the machines' automation supplier, ELAU. The packaging automation supplier has for years proposed that end users begin specifying commercial implementations of OMAC Guidelines. So instead of participating yet another round of proof-of-concept vendor demos, ELAU opted to highlight examples of its customers' real, commercially available products.

The company in fact did equip the first machine ever sold that implemented all the Guidelines -- a Norden Pac tube filling system purchased by Pharmacia (now Pfizer) back in 2003.

But three years later, the OMAC Packaging Workgroup still anxiously awaits a groundswell of specifications from the packaging community. Where, it may be asked, are all the end users who stand to gain the most from the standards underlying OMAC's Packaging Guidelines?

Granted, the OMAC Packaging Workgroup did succeed in attracting a number of OEM sponsors for its booth. The group also has enjoyed the consistent support of PMMI. And its unsung PackML team deserves serious applause for finishing up Version 3.0.

It can also be argued that every ELAU user gets a system implementing OMAC and Make2Pack principles, whether the customer asks for it or not. In reality, the vast majority of ELAU customers do not request these guidelines.

Instead, they buy an automation solution because it delivers the required level of performance, flexibility and connectivity to satisfy their customers' business needs. A good example is the new PacDrive™ iSH Intelligent Servo Modules introduced to the world at PACK EXPO. While standards-based, the real news is that they will simultaneously reduce costs and increase flexibility.

Standards have arrived and early adopters are benefiting

Perhaps, therein lies the answer. The standards are effectively in place. So we already take them for granted. And that's why we don't see busy users participating in OMAC. They don't feel the urgency.

As documented at this past Spring's Packaging Automation Forum and the most recent ARC report Packagers' Automation Strategies Must be Aligned with Business Strategies, early adopters are already starting to abandon their single vendor specs in droves. Why? Because they can, thanks to international standards.

We may never know how influential OMAC Packaging's standards proponents really were in creating this post-single vendor world. They included visionaries from Hershey, Miller Brewing and its now-parent South African Breweries, Procter & Gamble, the former Pharmacia and Unilever, not to mention staunch supplier open architecture activists such as ELAU and Markem.

Thanks to them, standardization is sufficiently available for end users to give their machine builders the freedom to choose from among a short list of qualified, global automation suppliers in order to optimize and innovate their machinery capabilities.

The early adopters – users, OEMs like Pneumatic Scale and Douglas, and automation suppliers alike – are reaping their first-mover rewards.

Mainstream adoption, therefore, cannot be far off.

Companies in this article
Videos from Douglas Machine Inc.