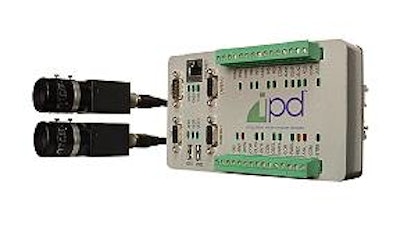 The VA20 is a dual camera vision appliance. Unlike its traditional smart camera counterparts, the VA20 incorporates the "smarts" inside the camera controller, as opposed to the camera head. This has the dual benefit of easier integration, since it can be positioned in a chassis alongside other automation controllers, and smaller camera size, thus making it suitable for tight-fit applications. In addition, the built-in dual camera capability provides a cost-effective solution in multi-camera applications.
Interfacing the VA20 is a snap. The unit is fully equipped with industrial grade Inputs and Outputs that are wired using removable screw terminal connectors. A visible LED light is coupled to each connection that reflects the active state of the signal. The I/O, together with all external interfaces, is conveniently accessible on the front of the unit facing the user.
Application setup software is preinstalled and ready to run, thus eliminating installation and revision control problems. The VA20 offers two distinct software interfaces, called iNspect and Sherlock. iNspect provides application versatility and ease-of-use, allowing you to setup and deploy a vision solution in a matter of minutes. For more complex tasks, Sherlock provides even greater flexibility and control, giving you the tools and capabilities at your fingertips to apply to almost any application. Less integration, quick software setup, multiple cameras... with the VA20 vision appliance, integrating machine vision just got a whole lot easier!
Key Features
- Compact DIN mountable system
- Single or dual camera inspections
- Suitable for tight-fit camera applications
- No software to install
- Powerful embedded processor ensures fast inspection times
- Online or offline inspection
- Quick connect/disconnect wiring
- Easily integrates into factory environments
- Universal solution for end-users,integrators and machine builders
Companies in this article