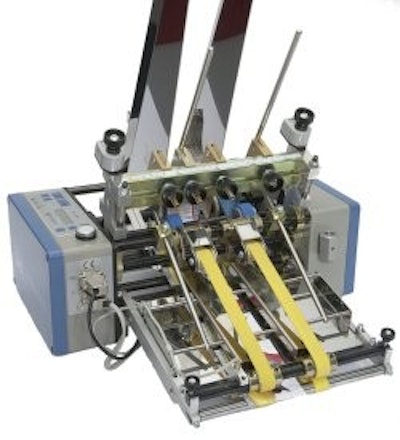 After selecting the required speed and drive system, a feeder head chassis is then often combined with a "delivery" which helps tailor the product delivery to the application requirements.
Typical feeder designs assume that products are generally discharged horizontally, and allowed to be gravity controlled into the required spot. This spot is often a flight pitch on an infeed and the product is often a sheet of paper. The result is typically mediocre. Sometimes pieces float as planned, but sometimes they "fly."
The Pfankuch feeder refuses to rely on a standard discharge snout and gravity for typical applications. Although often pieces are discharged generally horizontally, they usually need more positive direction. The horizontal delivery, available in 3 standard lengths, offers that capability.
With the ability to direct the product through a range of +10 to -30 degrees, the horizontal delivery adapts to nearly any normal feeding challenge. The feeder body isn't tipped so the carefully designed relationship of the product stack to the separation point isn't disrupted.
Many customers use an extended horizontal delivery to provide space required for in-line pressure sensitive labeling or ink jet printing - eliminating costly off-line steps.
For critically short dwell times, functionality in the VS2002 controller can further enhance the capability of the horizontal delivery by pre-feeding a product. Friction feeder response time is further reduced by the insert being in position and partially pre fed - awaiting the trigger signal for lightning fast response.