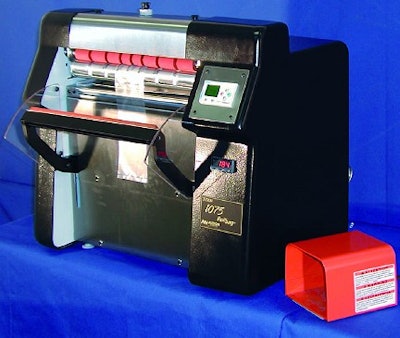 It is the most reliable and easiest to use automatic bagging system available today.
The basic model includes automatic bag advance; perforation detection to insure proper bag location for product feeding; two stage pneumatic bag opening; foot pedal activated sealing, or automatic cycling; and automatic bag separation.
The 1075 is easy to install and supports a wide range of bag sizes and mil thicknesses.
Products suited for this machine include:
Toys, Tools, Hardware, Art Kits, Sporting Goods, Automotive Parts, Textiles, Medical Devices, Cosmetics, Headphones, Rice, Tape, Candy, Plumbing Parts and more.
Technical Information:
• Minimum Bag Size : 2" x 2"
• Maximum Bag Size : 10" x 12"
• Production Capacity : 30 bags/min
• Machine Dimentions (L x W x H) : 30" x 22" x 23"
1075 ROLLBAG™ Automatic Bagger:
Company: Audion Automation
Machine type: Rollbag Baggers
Industries:
* Electronics
* Medical/Pharmaceutical
* Manufacturing
* Publishing/Printing
* Wholesale Trade
* General Merchandise
Companies in this article