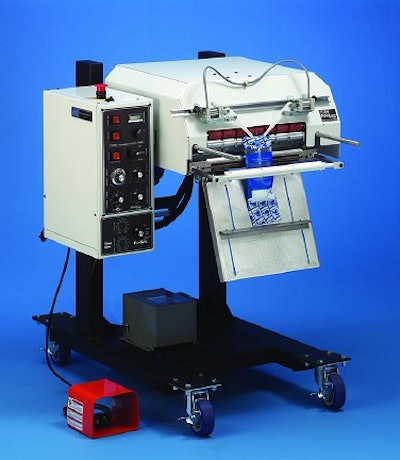 It includes everything required for production: high-speed bag opening, loading and sealing, with no special tools required.
This is a fully automatic machine with automatic feeding of the bags-on-a-roll used with this equipment, jaw activation, heat and cool down. Advanced technology allows the position of the bag to be sensed, stopped and repeated to an extremely precise position at a rate of up to 60 bags per minute. In addition, the standard unit comes with three modes of operation (automatic, manual and auxiliary) allowing this machine to be used for a wide variety of applications.
The 6500 comes standard with an electrical interface allowing the unit to be combined with your automatic product feeder, including counting and weighing. A fully programmable thermal printer is available, as an option for next-bag-out printing needs of UPC Codes, dates and graphics.
All these features combine into a time reducing automatic opening, filling and sealing system; giving you a very short investment payback period.
Applications:
Toys, Tools, Hardware, Art Kits, Automotive Parts, Textiles, Medical Apparatus, Headphones, Rice, Tape, Candy, Plumbing Parts and more.
Options Include:
# Stainless Steel chassis for food and pharmaceutical applications
# Spare Parts Kit
# Adjustable Small parts funnel
# Pneumatic Air expeller (spanker)
# Adjustable Bag flattening fingers for flat seals
Technical Information:
• Minimum Bag Size : 2" x 2"
• Maximum Bag Size : 10" x 12"
• Production Capacity : 60 bags/min
Audion Automation is a member of PAC Machinery Group
www.audionautomation.com
Phone: 672-389-0777
Companies in this article