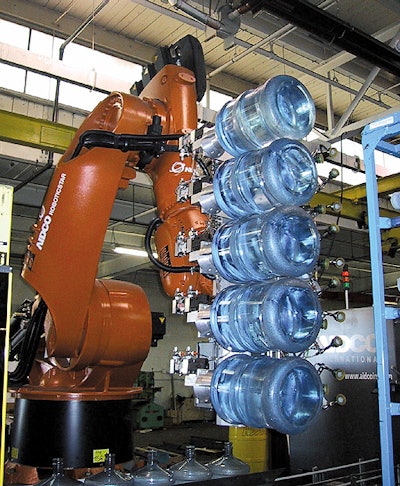 The packaging community has seen the future, and it is robotics. Industrial robots have always lent themselves to repetitive or even hazardous tasks. But as robots become more efficient and less costly, today's packaging applications are increasingly relying on their flexibility and reliability to do jobs formerly done by more traditional machinery.
Looking at the numbers, robots—especially packaging robots—are on a tear. Statistics from the Robotic Industry Association show that orders for packaging and palletizing robots in 2004 were up 50 percent over 2003, while overall the robotic industry grew only 20 percent.
"Packagers have a great need for flexible and quick changeover between products," explains Jeff Burnstein, vice president of marketing and PR at the Robotic Industries Association. "As more of these robots get out into the field in these applications, end users see they're doing the job and they want to have more of them."
"We see the market on a huge swing, on a hockey-stick growth curve," says Stuart Cooper, president, Langen Packaging Inc. "Every other quote we do has a robot in some form, and we've seen a transition of about a third of our business from traditional machinery to robotics in the past few years."
Perhaps the biggest reason for accelerated application of robotics is the flexibility they provide. Packagers face customer demands for a wider variety of products, and robots can handle varying sizes and shapes of products more easily than traditional packaging machinery. For example, a potato chip line that runs two different sized bags could use the same robot with a simple change of the gripping hardware and a tweak to the configuration program. Traditional machinery would require an extensive changeover process.
"First and foremost, end users want flexibility to meet customer demands," says L.P. Musunur, engineering manager for palletizing and packing at Fanuc Robotics. "Robots offer that flexibility at an affordable cost, with the same machine handling pouches, candy, a variety of things, in a flexible manner."
"The high product mix in consumer products, especially personal care products and consumer electronics, is a big driver," says Tim DeRosett, vice president at Adept Technology. "In years past you might run a product on a line for weeks or months before a changeover, but now it's a matter of days, or even hours, before it's time to change. With flexible robots, the changeover is much easier, often with slight modifications to tooling and software. The robot still performs the same basic operation."
The flexibility comes in handy with customer-specific requirements like pallet size. For example, while much of the beverage industry uses a 36" X 36" pallet, Wal-Mart has standardized on a 48" X 48" pallet. This often requires that the merchandise be re-palletized at the distribution center.
Re-deployable assets
"The demand for flexibility is becoming an issue for those who have conventional palletizers because they can only run one size pallet," says Sal Khan, president of AIDCO International. "When they look at robots, they're looking to make sure they have the consistency, flexibility, the throughput they need to handle anything."
"The reason they're looking at robotics is that they see it as a re-deployable asset," says Cooper. "They can run two or three products down the same system and then take the robot and use it for another product or line or launch."
This easy changeover is in part due to the rapid evolution of the robot configuration software. Today's robots can be reconfigured quickly, without extensive programming knowledge.
A significant advantage in today's robotic software is the use of offline configuration and simulation. A procedure that might normally take 30-40 hours for a robot to "learn" can now be "taught" offline and incorporated into the system with a process interruption of as little as a couple of hours.
"Simulation has been around for a while, but now we can provide models of other pieces of equipment so users can reconfigure and use patterns to create processes automatically," says Carl Traynor, senior director of marketing at Motoman. "If you need to palletize it in so many picks per hour, you can verify it with the program, or find out that you need to change the pattern. The simulation does everything exactly the same way the robot does it."
Vision of the Future
Another advance in robotics has come with the latest vision technologies. Robots with vision capabilities can "see" the shape or orientation of the objects they're picking up and modify their action accordingly, perhaps by putting the object in the correct position before packaging it. Vision systems also allow robots to more easily learn and adapt to new products, and can also be used to verify product quality.
"If you add vision, and you know what the product mix will be up front, you can plan for that and train the vision system to recognize products," explains DeRosett. "The robot can then recognize a new product and respond to it. But even if you don't have the luxury of knowing the mix up front, you still have the flexibility to adapt to different products quickly."
Using a vision-enabled single-step robot can eliminate several steps from a traditional application. For example, if a customer has a bagged frozen food product, they might use a traditional packaging system to drop it into a case. But if the packaging requires a certain orientation, a robot can identify the orientation of the bag on the conveyor, pick it up, and place it in the case in the correct orientation.
"With the robot we have visual tracking, which tells the robot where an object is at any given time," says Musunur. "The robot sees it and gets the orientation, and picks it up on the moving conveyor. That provides for a lot more flexibility without the constraints posed by traditional automation."
Critical in the success of a robotic vision system is the link between it and the robot's motion controller. While most vision systems can provide detailed information about an object's location, having a tight link between vision system and controller is critical to achieving accuracy as close as 0.04.
"In the past it's been an integrated vision, but more recently you'll see a vision system in a separate PC," says DeRosett. "Regardless of where it resides, the critical element for robot guidance vision is the calibration routines that tie everything together. Without proven and easy-to-use calibration tools, people spent too much time and money trying to get reliable data from the vision system to the robot controller."
The technology that goes into robot design continues to advance. For example, some systems even use a single camera to provide information to several different robots. Encoder resolutions are improving, and as manufacturers leverage that technology with better software, the end result is tighter and tighter tolerances.
"A lot of advances in both hardware and software have improved how we're able to command the robot to move to more precise positions, which is required for packaging operations," says DeRosett. "Such precision becomes critical with small items, such as medical devices and consumer electronics that are often assembled prior to being packaged on the same line."
Another selling point for packaging robotics is reliability. Because they use servos rather than chains and gears, today's robots offer more than 60ꯠ hours mean time between failure, and they only require a first maintenance check after 40ꯠ hours.
Also driving robotic technology is the need for speed, although some see that technology reaching the limits of many applications.
"Some people have talked about achieving more than 100 picks per minute with a robot," says Traynor. "But with the inertia of something like a small cookie, when you start moving it that fast, you're liable to throw it across the room. Now you can achieve faster rates with several robots, and have greater flexibility and reliability."
"Ultimately it's the optimum motion with highest rates," says Mark Senti, vice president and general manager of GSMA Systems. "Robots can help with high-speeds with a very controlled and smooth motion."
Robot Training
While robots have become easier to use—with Windows CE-based controllers and intuitive graphical user interfaces—they still require a certain amount of up-front and ongoing training.
"They're not difficult to use, or difficult to maintain," says Cooper, "but companies have to commit to training so that their engineering base understands the nuances. It's a learning curve, but it's not a difficult one."
"There are more concerns about the ability of the in-plant staff to maintain the systems, because there's a lot more programming than with a mechanical system," says Cooper "You have to train to put the machines in and see the cost benefits of them."
For all these benefits, robots are becoming an even better value, with many costing around $100ꯠ. According to the United Nations World Robotics 2004 Report, while the price index of manual labor has increased 50 percent since 1990, the cost of robots has decreased by 80 percent over the same period.
"In general everything starts with the goal of staying profitable, providing the customer with higher quality product," says Musunur. "As we try to solve that puzzle to reduce the cost of packaging, robotics are able to offer that solution."
Of more concern than price is the return on investment, a calculation that becomes even more palatable as the price of robotics continues to come down.
"Frankly, with today's expectations, it's difficult to sell a project with 18-month payback," says. Traynor. "It has to be under a year, but we're hitting that pretty routinely."
"The big advantage is you can configure a system that has a standard cost and certain capabilities," adds Senti. "The solution can be a simple robot with a single tool and simple guarding, or it can be a robot in a frame with a touch screen interface. We've seen ROIs from six months to up to two years."
So in the battle between traditional packaging and robotic equipment, who's really winning? Conventional machines still have large market share compared to robots, but the robots are gaining ground quickly, in some instances because they're being integrated into the conventional machinery.
"You can do more with a robot with just about any type of pallet," says Sal Khan. "With our conventional machine, we've developed a half-robot machine that's flexible enough to utilize a pallet from 36 to 48 inches, so when the customer has to run a different type of pallet, the machine is flexible enough to receive it."
Robots also have an exceptional advantage over traditional machinery with extremely heavy objects.
"We have customers producing 240-pound barbeques and putting them into containers," says Hans Schouten, vice president of marketing and sales at FLEXiCELL Robotic Solutions. "A six-axis robot has the capability to put many various items in the containers, plus a heavy lifting cycle—a robot is the answer, especially if speed is a topic as well."
"The lines are blurred," says Olivia Khan, vice president of marketing at AIDCO. "We look at pick-and-place robots and they don't look like robots, it's just normal machinery. I think there'll be more of that going on, upgrading conventional equipment to semi-robotic equipment."
But robots still have obstacles to overcome. For instance, several companies are addressing the issue of sanitary, food-grade robots. And more flexibility and ease of use is always handy.
But even as technology stands today, many people agree that robots are probably underutilized in the packaging arena.
"The challenge with robots is getting people who know how to integrate them and see beyond the cost," says Senti. "It's such a reliable device you're actually simplifying the overall system."
"There's a lot more you can do with robotics, but we need to open our eyes to the inefficiencies we have," says Cooper. "Robots can work much further than just putting something into a box, and end users need to realize that."
Companies in this article