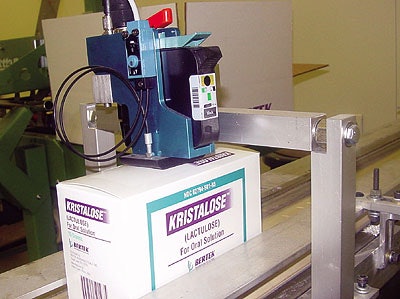 Continuous ink-jet printing of lot number and expiration date on 30-count cartons of a prescription laxative has come to a halt at Caraustar's contract packaging plant in Pine Brook, NJ. In its place is a thermal ink-jet cartridge system from Nutec Systems (Lawrenceville, NJ) that bears some resemblance to the computer printers found in countless homes today. The resemblance is no coincidence. The ink cartridges that snap into the Nutec System are from Hewlett-Packard (Palo Alto, CA), the firm that owns a huge chunk of the market for home and office digital ink-jet print cartridges.
Whence the cartridges come is not nearly as important to Caraustar general manager Bill Armero as are the benefits they bring. More than anything else, simplicity in operation is what Armero likes about the Nutec system, which was installed last fall.
"Depending on the size of the code, you can imprint hundreds of thousands of codes from a single cartridge," says Armero. "And when the cartridge is empty, you simply snap it out and put a new one in. It's quite a switch from continuous ink-jet printing, where you deal with inks and solvents and time spent routinely on flushing the system out."
The M-600 thermal ink-jet printing system used at Caraustar is manufactured by Wolke, a German firm that Nutec represents in the United States. Wolke is licensed by Hewlett-Packard to build printers incorporating H-P digital ink-jet technology for use in industrial settings.
Like a digital continuous ink-jet printer, the M-600 sprays ink on a substrate in a pattern determined by software running on a programmable logic controller. But there's no fluid continuously circulating in the M-600, and the ink is water- rather than solvent-based. When the ink is heated, it's ejected through nozzles according to a pattern determined by the PLC and the software it's running. A low-ink alarm alerts operators that a new ink cartridge is required.
Armero appreciates the water-based inks. "With solvents like methyl ethyl ketone, there can be environmental issues to contend with, which any food or pharmaceutical company is happy to be without," says Armero.
Perhaps most important, as Armero observes, is that the print cartridge itself is just as much a consumable as the ink inside. When the cartridge is empty, it snaps out and a fresh one snaps in-just like on the printer at home.
Powdered-product line
At the Caraustar plant, Packaging World watched the Nutec printer in action on a line dedicated to pouching of powdered products. A prescription laxative known as Kristalose™ (a registered trademark of Bertek Pharmaceuticals) was the product being run. Manufactured by Inalco of Milan, Italy, and distributed by Bertek Pharmaceuticals of Research Triangle Park, NC, the product is packaged into foil-based packets each weighing 10 g. Operators manually load the single-dose packets into folding cartons that are preprinted with all the information and graphics that are required except the lot number and expiration date. This information is printed onto the cartons by the Nutec system, mounted above a simple belt conveyor.
In assessing the cost of thermal ink-jet coding, Armero figures that if total cost of ownership is compared—which takes into account not just the print cartridge versus the ink canister but also the reduction in maintenance and downtime required for routine cleaning—his costs are comparable to what they were when the continuous ink-jet printer was used on the line.
Armero also emphasizes that continuous ink-jet printing will continue to play an important role in the packaging operation at Caraustar because the thermal ink-jet printer isn't designed to work on glossy or coated surfaces.
"On varnished cartons, you need the solvent-based inks that are used in continuous ink-jet printing," says Armero. "The water-based ink deposited by these H-P cartridges won't dry on that kind of surface." This could change in the near future, however. Business development manager Colin Cozier at H-P says new inks more suitable for glossy surfaces are now being explored.
Another limitation to its current print cartridge technology that H-P freely admits is that high speed is not one of its long suits. Although a continuous ink-jet printer is capable of 1ꯠ'/min, 250'/min is tops for the thermal ink-jet system running at Caraustar.
But in the Caraustar application, 250'/min is perfectly adequate, says Armero, and the benefits gained by switching to thermal ink-jet printing are considerable. "It's reliable, clean, and easy to operate and maintain," says Armero.
Companies in this article
Videos from Universal Labeling Systems, Inc.