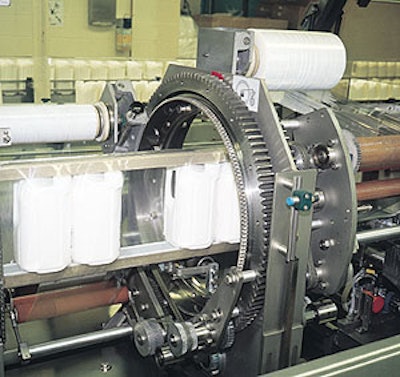 Although Superior's Line Two, running now since 2001, operates similarly to Line One, there are a few key differences. While Line One fills a variety of products in either ½-gal or 3-L bottles, Line Two is dedicated to white milk, usually in the 1-gal size.
From a machinery standpoint, bundling and palletizing are also quite different on Line Two. Bundling bottles into two packs is done on a DuoTube 625 stretch wrapper from Germany's Hagemann, represented in the U.S. by Bolliger (Spartanburg, SC). Capable of 55 bundles/min, the machine (shown here) collates two of Superior's 1-gal bottles and then sends them through a special transport conveyor for film application. The 70-ga PE film is applied by two counter-rotating roll carriers that stretch the film 150%. After wrapping, the film is cut and the stretch film clings tightly to itself, thus holding the bottles tightly together.
According to Greg Watkins of Rodem (Cincinnati, OH), the line integrator that helped select and install the Hagemann system, this equipment is appealing for several reasons. First, because it stretches film rather than shrinks it, no heat tunnel is required. That's good for obvious reasons in a dairy plant, where chilled, perishable product is being packaged. Second, it also means the equipment has a smaller footprint than a shrink film system.
Third, the machine bundles bottles with minimal film. "You might need 30 grams of shrink wrap where 8 grams of stretch film will do," says Watkins.
Exiting the stretch bundler, bottles move next to a robotic palletizer from Fanuc (Rochester Hills, MI). Its end effector is cleverly designed to perform two very different tasks. Picking bundled bottles, of course, and placing them on a pallet is its main mission. On the day of Packaging World's visit, it did this by collating seven bundles and then lifting them as a group to a preprogrammed spot on the pallet.
The robotic end effector also has two pneumatically activated vacuum arms that swing down to lift a slip sheet from a magazine and place it atop each completed layer of bottles that has been completed. That done, the arms retract and the end effector goes back to placing bundles of bottles on the pallet.
According to Greg Soehnlen, vice president and general manager at the dairy, a similar Fanuc robot will soon be installed at the end of Line One.
See the story that goes with this sidebar: Special equipment for a special concept
Companies in this article