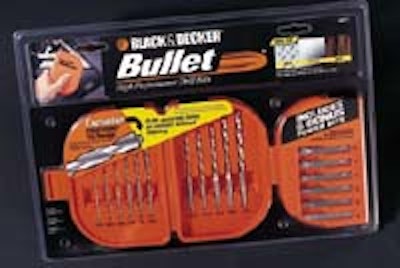 "[The package] has all the characteristics we wanted-it's tamper proof, compatible with our existing radio frequency-sealing tooling, and can withstand shipping stresses while maintaining full and clear product visibility," says German, packaging engineer at the company's U.S. Accessories Div. in Towson, MD.
Made from Klöckner Pentaplast's (Gordonsville, VA) 17?-mil Pentaform® rigid vinyl, the blisters come in two sizes: 14"x10"x1 ?" and 12"x7"x1 ?". Computer Designs (Whitehall, PA) thermoforms the blisters with eight buttons, one in each corner on both halves of the package. When blister halves are pressed together, these aligned buttons lock into place and keep the package closed until RF sealing. After thermoforming, the blisters are sent to Black & Decker's Fort Mill, SC, plant for filling and RF sealing.
Available nationwide in stores including The Home Depot, Ace Hardware and Wal-Mart, Bullet High-Performance Drill Bits retails for $14.99.
Companies in this article
Videos from Klöckner Pentaplast Pharma, Health & Protection and Durables