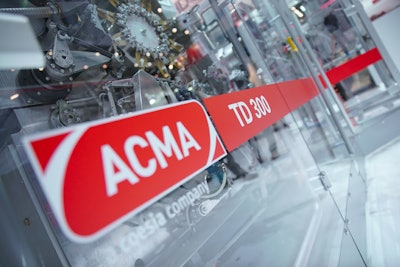 ACMA, a part of the Coesia group, has decades of experience in designing, building, and selling automatic machinery for packaging consumer goods, and boasts a diverse portfolio of technological solutions, according to the company.
The new ACMA approach to machine naming was presented at interpack 2017. This follows the recent company relaunch, and aims to respond even more closely to customer needs.
For more than 90 years, ACMA has developed packaging solutions to meet the needs of different product sectors. Although its ethos has always been to propose innovative technologies, the design process involved has led to multiple groups of machines being created, with their purpose not always being immediately identifiable.
Over the last few months, the company has decided to rename all the machines in portfolio, and revealed the new approach at interpack 2017. The intention was to make different machines easily identifiable through their name, reducing all information concerning the product, the technology, the production performance, and any special characteristics of the machine—such as the style of wrapping possible—to simply a few letters and numbers.
The machine's DNA in just a few letters
How does it work in practice? The first letter now indicates the products the machine should be used for, as T for Tea, C for Chocolate, S for Soap bars etc. The second letter points out the type of packaging. The subsequent numbers indicate the maximum speed of the machine. Lastly, some models have a final letter which indicates a special characteristic of the machine, for example: CW 600 F: Chocolate, Wrapping, 600 ppm, Flat (flat-base chocolates)
This codification will make it easy for the customer to identify a machine line.
Companies in this article