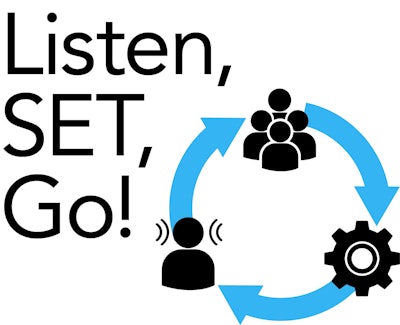 Listen, SET, Go is Spee-Dee's new customer-centric manufacturing strategy designed to speed delivery, strengthen quality control, and expand employee accountability.
"Listen, SET, Go creates a culture focused on time awareness and meaningful decision making," says Tony Stefanelli, Spee-Dee's VP of business development. "It begins with active listening, then unlocking the intellectual and creative potential of every team member, and that ends with a more satisfied customer."
Stefanelli says the proven methodology behind Listen, SET, Go is based in the Quick Response Manufacturing (QRM) principles of University of Wisconsin Madison Professor Rajan Suri.
"Listen, SET, Go uses a three-cell manufacturing system to minimize the delays that can hamper on-time deliveries," Suri says.
He added the new system encourages on the spot problem solving, which guarantees premium product quality.
"This innovative process also builds a stronger connection between those who create the machine and those who use it," he adds.
The "Listen" portion of the strategy creates a dialogue to identify specific needs and challenges of an application. This is the first step to building a stronger connection to the team that builds each machine. The "SET" phase designs, manufactures, and assembles each machine through one of the company's three manufacturing cells. This minimizes the time it takes for products to flow through the system. Finally, "Go" guarantees every machine gets the uninterrupted time and individualized attention it needs for first-class quality and an on-time delivery.
How Listen, SET, Go Makes a Difference
The Listen, SET, Go system uses three distinct cellular manufacturing areas that are labeled Sustain, Enhance, and Transform (SET). Each cell has its own defined, critical focus, which avoids the bottleneck that can happen with busy production schedules. Each cell also has its own team of engineers, fabricators, and assemblers led by a dedicated project manager.
The "sustain" team is designed for quick deliveries, dedicated to manufacturing standard products like the Revolution series auger fillers. By not having to wait in line behind orders with long lead times, standard orders can be filled more quickly.
"By focusing each cell's team on a specific category of machinery, we create a more steady flow of work through each cell," says Adam Mulder, Spee-Dee's project manager in charge of the Sustain team. "Listen, SET, Go improves communication between team members and ensures better resource management, which results in faster deliveries."
The "Enhance" cell focuses on augmenting standard products with options such as split hoppers or more sophisticated controls for companies that need a more tailored machine. Having a dedicated customization cell cuts down on errors and allows for quicker resolutions to any problems that do arise, letting orders go from start to finish in just a few weeks.
"The Listen, SET, Go strategy was initially proposed by Spee-Dee President and CEO Dave Navin," Stefanelli says. "He found a way for Spee-Dee to harness the power of time and give it back to our customers through faster delivery, improved product quality and increased accountability."
Companies in this article