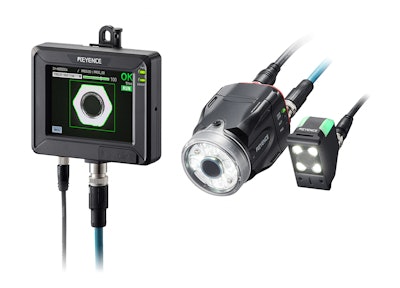 KEYENCE Corp. of America's new IV-H Series vision sensor increases the stability and functionality of visual inspection.
The IV Series vision sensors can handle difficult detection applications with ease. KEYENCE vision sensors will typically replace multiple sensors for an all-in-one solution for applications with multiple parts to detect.
The new IV-H models boast increased stability and versatility with a brand new toolset. Previously existing units used three tools for detection:
• Outline tool for shape and pattern detection
• Color detection
• Position adjustment to account for change in orientation and position
KEYENCE has expanded the toolset for the new IV-H models with new tools that increase the stability of inspection and increase the number of applications the IV can solve. Along with the three tools present in earlier models, the IV-H also incorporates the following new tools:
• Width/height detection
• Diameter detection
• Edge presence verification
• Edge Pixel tool (for detecting machining/finishes)
Typically, vision software can be cumbersome and difficult to use. To set up a new program in the IV software, the user needs to only complete four steps. Tools are simple and intuitive, allowing operators of various vision software competencies to set up a program in about one minute. With an Ethernet/IP and Profinet communication setup wizard, the IV series vision sensors are easy to network.
The IV-H allows the handling of a variety of applications with ease.
Companies in this article