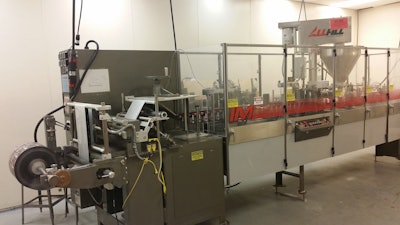 Ruspak Contract Packaging Service, Lyons, NY, announced that it has "nearly doubled" packaging capacity since March of 2014 following the purchase of three "Bartelt style" pouching machines (one shown in photo) as well as "four new video jet printers and a new, automatic shrink wrapper." On the powder-handling side of the operation, the company has installed five new powder fillers and two new powder vacuum lifters.
Timothy Brickle, company president, noted innovative customer projects including a new product launch in which eight tablets are packaged per blister, and 15 blisters are packed in a unique four-color tray and sleeve package. He added that the company is packaging "nearly a million pouches a week for another customer."
The family-owned company, founded in 1959, offers packaging for capsules and tablets into blisters, bottles, pouches and strip packs. The company can also package gum tablets into blisters and pouches, powders into jars and pouches, liquids and powders into pouches, and powders and ointments into jars and tubes. Secondary services include shrink wrapping, labeling, cartoning and building of in-store displays.
Ruspak's facility is registered by the U.S. Food and Drug Administration, Drug Enforcement Agency (DEA) for schedule 3 and 4 products as well as List I.