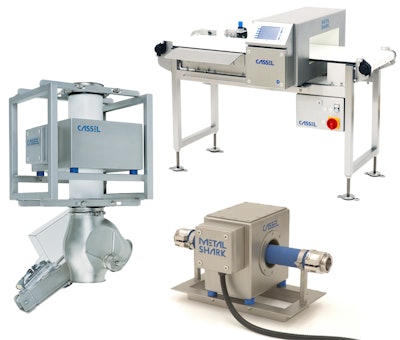 Integrated four-quadrant technology ensures extreme equipment reliability and allows Cassel metal detectors to readily adjust settings to find metals in even the most "difficult" products such as cheese or high-salt-content foods. Additionally, Cassel Metal Detectors boast DDS technology and can be serviced remotely which often eliminates the need for an on-site, costly repair.
To ensure maximum performance, users are taken through a series of easy-to-follow, step-by-step, high-graphic screens to set standards for product testing. By finding even the smallest particles of ferrous, nonferrous and stainless steel contaminants, Cassel metal detectors assist food processors to meet HACCP, IFS HACCP, BRC, IFS5, SQF 2000 and FSSC 22000 / PAS 220 safety standards.
MPI is the exclusive North American distributor for Cassel in the food, pharmaceutical, plastics, aggregate, recycling and mining industries.
MPI provides free testing for metal detector applications.