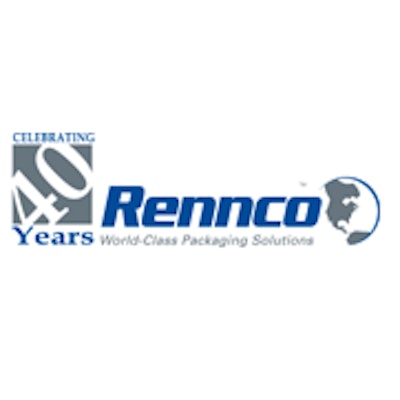 In 1969, the packaging machinery manufcturer--based in Homer, Michigan--introduced a new, simplified, cost-effective sealer for a wide variety of products that are packaged in centerfolded polyethylene, polyolefin, and PVC films.
Rennco'
s original packaging machines were available in two models, both of which were operated by air logic. Through the years, Rennco has continued to innovate utilizing PLC controls, servo motion, and up-to-date sealing systems with coated seal blades. In addition, many varieties of fully automated product handling systems are available.
Over the past 40 years, Rennco has grown to more than 70 employees and has evolved its product offering from basic hand load packaging machines to fully automated packaging solutions. Robin Thurgood, Rennco's Vice President and General Manager states that "Over the years Rennco has risen to numerous challenges from the markets that we serve. The increasing sophistication and demands required, of the solutions we provide, has driven us to become the world class organization we are today. Our continued success can be attributed to the people of Rennco who enable us to continually provide outstanding customer satisfaction and high quality equipment."
Companies in this article