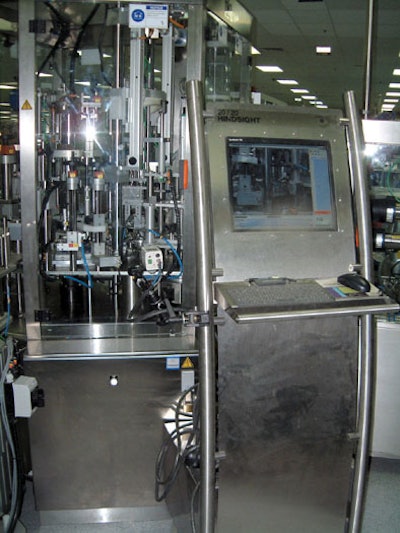 At its packaging facility in Seaton Delaval, Northumberland, England, Procter & Gamble UK contract packages a range of premium perfume products in container sizes from 30mL to 125mL. Brand names include Dolce & Gabanna, Lacoste, Hugo Boss, Laura Biagotti, and Baldessarini.
Accommodation of this broad variety of perfumes, containers, dispenser pumps, closures, labels, and cartons (provided by multiple, undisclosed suppliers) requires diligent attention to details on the P&G packaging lines. The fully automated operation, capable of speeds from 30 to 55 bottles/min, incorporates rotary indexing perfume filling equipment, pump and collar placer systems, and rotary indexing capper/labeler/coder equipment—all supplied by PKB.
In order to best serve its contract packaging customers, it was imperative that P&G be able to get the new PKB packaging line up and running at full speeds without any unnecessary delays.
At P&G's suggestion, PKB used a 20/20 Hindsight high-speed video recorder leased from Monitoring Technology Corp. (www.2020hindsight.com) as a diagnostics tool during the vendor acceptance testing of the new packaging equipment. P&G UK already had good experience with the 20/20 Hindsight system, using it to troubleshoot problems on its existing packaging lines. So they understood the value it could have in designing and testing the new packaging machines and working out any kinks prior to delivery and installation.
Mounted on a caster wheel cart, the 20/20 Hindsight camera system can be strategically positioned at any point on the packaging line. It continually records line function performance and stores several hours of video in a circular recording memory. If a line jam or other downtime event occurs, the equipment evaluators can simply scroll back through the video and replay the event in slow motion to pinpoint the problem for analysis by the technical team, and find a way to correct it.
Park and point
Procter & Gamble UK project engineer Gordon Fellows participated in the diagnostic testing of the new PKB equipment. As he explains, "During the vendor acceptance testing, problems arose with pump placing into the bottles—that is, getting the bottle aligned directly under the pump before pump insertion. This process is very difficult, if not impossible, to see with the naked eye at normal line speeds.
The high-speed camera gave us two huge benefits. It allowed us to analyze movement frame-by-frame to determine the issues. And secondly, because of the live buffer within the camera software, we didn't have to worry about starting/stopping the camera. It was always on, ready to capture any action for retrospective review. The footage of the pump placing function helped us, technicians from both P&G and PKB, to understand the problem and work together to modify the machine's pump placing assembly accordingly."
P&G UK's Seaton Delaval plant owns two 20/20 Hindsight recording systems, used to analyze and correct line problems as they occur. The plant purchased its first Hindsight system in 2006, and the system was so easy to use that only minimal training was required. When P&G purchased its second 20/20 Hindsight system in 2007, no training at all was required, even though the screen interface had been improved and was slightly different.
P&G has successfully applied this diagnostics technology to solve diverse problems—from pump placement to perfume spilling/dripping to collar placing to carton flap tucking. Fellows notes, "All of these issues are very difficult to detect and correctly diagnose in real-time. The ability to 'park and point' a camera system at a packaging operation all day and forget it's there until you have a problem is invaluable.
Our justification for purchase was based on faster, more accurate 'right-first-time' problem-solving to reduce production downtime and product waste. And the system's straightforward design makes it very easy to understand and operate."