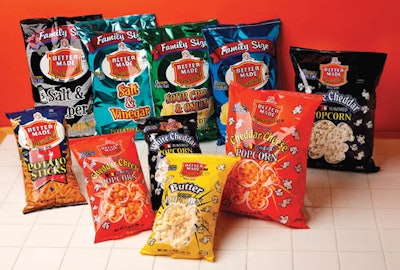 Better Made Snack Foods, Inc., Detroit, produces regular, wavy, and no-salt potato chips, potato sticks, and popcorn in a variety of flavors and package sizes for distribution through convenience stores, supermarkets, and club stores throughout Michigan, northern Ohio, and Chicago. In 2006, the snack company decided it was time to replace some older bagging equipment in its popcorn packaging room and began to evaluate options.
In November 2006, Better Made installed a SnackPro 211315R vertical form/fill/seal machine from Matrix Packaging Machinery for its popcorn bagging operations. Key features of the new system include a color touchscreen interface, Allen-Bradley PLC controller, servo pneumatic heat seal jaw control, and programmable sealing temperatures.
The f/f/s machine is equipped with a CHE four-cup volumetric cup filler manufactured by Spee-Dee Packaging Machinery, Inc.. Window bags are formed from 70-ga coextruded, laminated oriented polypropylene film, printed in six and eight colors, and supplied by Printpack Inc..
Better Made also has another Matrix machine on order for installation in either its popcorn packaging room or its potato chip packaging room. It will be equipped with a scaling system from Yamato. Both the Spee-Dee and Yamato systems are incorporated into the Matrix machinery by Matrix engineers to meet specific product application requirements.
After the popcorn bags are formed, filled, and sealed, they are manually packed into corrugated shipper cases supplied by Weyerhaeuser Corp.. The potato chip bags are packed for shipment using an automated case-packer from Blueprint Automation, Inc.. Better Made Snack Foods president Mike Schena says, "Casing operations for our chip products were first to be automated, partly due to the larger volumes of chips we produce. But we are looking at phasing in automation for the popcorn casing operations, too."
During 2008, the snack company also plans to upgrade its potato stick canister packaging line by adding gas injection equipment for extended shelf life. At this time, none of the company's products employs gas packaging.
Multiple benefits
Better Made produces popcorn bags in a range of product volumes from 7⁄8-oz to 16-oz. The company was able to replace two older form/fill/seal machines with one new Matrix machine and increase production by about 35% in the process because the new machine operates at considerably faster speeds. Schena reports, "Now we are achieving rates of 60 bags/min for the 7⁄8-oz sizes, 40 to 45 bags/min for the 31⁄4-oz sizes, and 35 to 40 bags/min for the 9-, 10-, and 16-oz sizes. And film waste due to bad bag back seals and package underweights has been reduced by approximately 25%. This not only helps boost output rates, but also reduces our packaging material costs.
"We were drawn to the Matrix form/fill/seal equipment because of its good reputation for quality. The Matrix people delivered a first-rate piece of equipment at a reasonable price, and they have a great service department. Their technicians were fully involved in all phases of the installation, training, and machine start-up, and their knowledge and skills were evident from the start. The fact that many of their replacement parts can be purchased at prices below those of their competition sealed the deal.
"The machine is easy to operate, changeover, maintain, and clean, and we expect to recover our investment within two years. In fact, the machine has performed so well, and the Matrix staff support has been so good, that we plan to make Matrix our number one packaging machine supplier. We could not be happier with the machine and the company."