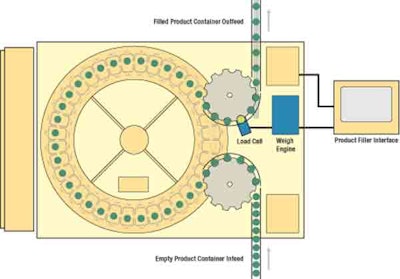 F
Better known as a Weigh Engine, the little black box from Thermo measures just 3" x 3" x 4". Yet it contains all the technology and software required for checkweighing at high speeds. Thermo incorporates its Weigh Engine as a component in its own line of VersaWeigh checkweighers. But the firm is also positioning the proprietary device—which can operate on an intermittent-motion or a continuous-motion basis—as a module that can be embedded in, for example, an OEM's filler or cartoner. Despite its compact size, it includes its own microprocessor, inputs and outputs, analog-
to-digital processing, and memory. Moreover, all statistics generally associated with checkweighing—such as reject timing, for example—are managed by the Weigh Engine.
"The OEMs that choose to embed this checkweigh functionality in their packaging machines will also require, at a minimum, one load cell to complement the weigh engine, which would require a 24-volt supply," says Thermo's Martin Lymn. "But the idea behind the OEM Kit concept is for the end-user to be able to avoid the separate framework, infeed and outfeed mechanisms, and separate HMI (Human Machine Interface) that would be required if a conventional checkweigher were installed in a packaging line."
The Weigh Engine needs no HMI of its own because it can be "driven" by any other intelligent device over an Ethernet link. This allows a line integrator or OEM to embed the operator controls for the checkweigher in the same HMI panel used for the packaging machine itself. Thermo believes this will be highly attractive in today's environment, where every square foot of plant floor space is precious.
"Checkweighing takes place not downstream from the filler but rather right within the confines of the OEM's machine," says Lymn. "And because containers are being weighed so close to the point of filling, if I want to do automatic feedback to correct an overfill or underfill, I have a very responsive arrangement to accomplish that."
An added attraction of eliminating the dedicated HMI typically required when a stand-alone checkweigher is installed in a packaging line is that it eliminates the need for additional training and simplifies both installation and use.
ashionistas insist that an indispensable component in every girl's wardrobe is the little black dress. Thermo Fisher Scientific is hoping its little black box will become just as indispensable in some of tomorrow's packaging machines.
Companies in this article