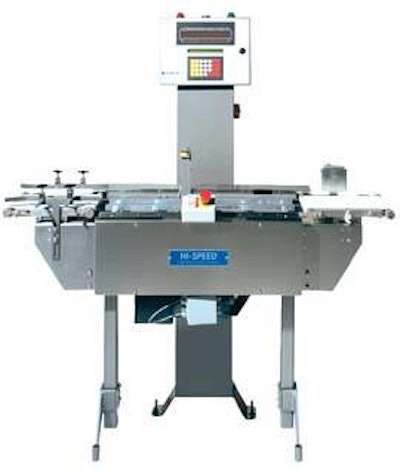 The Hi-Speed Model A100 is a highly versatile yet economical general purpose checkweigher designed to weigh a wide variety of packages. The machine is comprised of a rugged and reliable continuous chain product handling system integrated with a full-featured Micromate checkweigher controller.
The A100's continuous chain design ensures smooth product transfers and repeatable weighing performance, while its open design and single motor construction delivers trouble free operation and simple maintenance requirements. Optional infeed belt for timing and spacing and discharge belt can be provided for ease of line integration.
Excellent Value - Adjustable chain runners enable line changeover to adapt to new package configurations. Optional infeed and discharge conveyors allows right sizing of the system to fit the application. Micromate controller stores set-up parameters for up to 25 different products. Key switch and multilevel password security ensure access to only authorized personnel to maintain system security.
Solid Performance- Continuous chain design effortlessly transports packages across the infeed, weigh, and discharge sections eliminating cumbersome transitions which can lead to reduced weighing performance. Simple design enables the use of a single AC motor with VS Drive to power the entire product handling section including optional infeed and discharge belts.
Easy To Use - Micromate controller with large color coded control keys, high visibility message display, dedicated status indicators, and large weight readout all combine to reduce user training and eliminate operator guesswork.
Maintenance Friendly - All components are accessible for inspection and maintenance. Single motor construction keeps machine design simple, and parts count to a minimum. Automatic Checkweigher Test Program (ACTP) combines controller self-diagnostic tests for memory, A/D performance, power, and I/O functionality with continuous monitoring of zero, scale noise, and package spacing, which delivers unprecedented uptime.
Compact Design- A100 space saving design requires only 31" of line space for the standard machine; optional infeed and discharge conveyors can be added individually or as a pair to suit the application.
Interfaces - EZWay bi-directional RS232 with Net Weights Output standard; Optional interfaces include Allen-Bradley RIO, DeviceNet, ControlNet, Ethernet/IP, and Modbus TCP.
Options & Accessories - Infeed timing and spacing belt conveyor, discharge belt conveyor, air blast and remote mounted rejectors; 5 zone operation; metal detector input, Micromate+ controller with statistics, alarms, and reports.