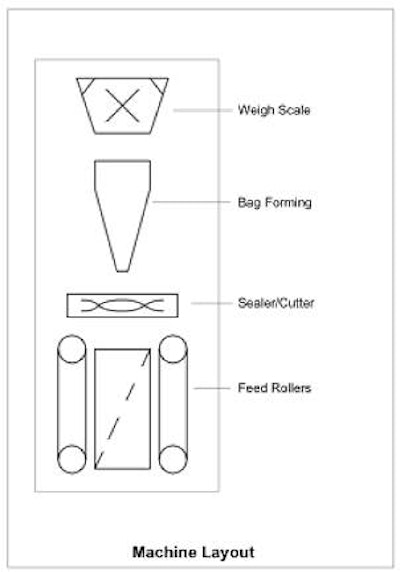 One way of reaching this goal is through diagrams of packaging machinery, like the drawings of a typical vertical form/fill/seal machine shown here. Helping to develop the diagrams was Mark Carmount, a systems integrator at Systematix Inc. Carmount emphasizes, by the way, that the diagrams are continuing to evolve as the Make2Pack dialog continues. What's shown here is a "first draft."
"It's a matter of first establishing 'machine layout,' then moving to 'machine functions' and introducing the idea of the controller that manages all the functions," says Carmount. "From there we move to an understanding of the vf/f/s machine as a 'unit,' so that we begin to let our thinking be shaped by the terms and philosophies of S88. Diagram 3 shows how S88 would build software for a vf/f/s machine: in a hierarchy—small pieces of software at the bottom, larger pieces up top, but all of it modular.
"Those doing the Make2Pack committee work view these diagrams as important building blocks of understanding because they help people separate the physical—what functions a machine is capable of—from the procedural—the recipe you want the machine to produce today. If you successfully separate the physical from the procedural, then if Tuesday's recipe is completely different from Monday's, you don't have to go back into the controls system and reprogram. Because the software has been written in such a way that it's not even aware of recipes.
"What it comes down to is that it allows recipe builders, who typically aren't familiar with controls systems, to go to a recipe management system and change the recipe without having to bring in engineering people to make programming changes."
For more on the Make2Pack initiative, including a schedule of meetings, contact Dave Chappell at chappell.da@pg.com.
Companies in this article