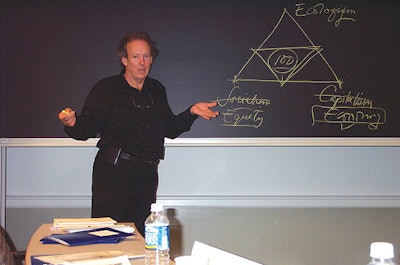 In early July, some of today's leading consumer products companies and packaging suppliers walked away from the first industry-wide meeting on cradle-to-cradle package design wanting more. More answers. More collaboration. And more knowledge about the potential benefits of cradle-to-cradle package design.
Cradle-to-cradle package design has the potential to radically change the way packaging is designed and consumed in this country and abroad. Modeled on nature, where waste becomes fodder for growth, cradle-to-cradle packaging is designed to make a full return or reuse cycle. Today, nearly all packaging is designed only through the point of use by the end consumer. Proponents of cradle-to-cradle packaging say potential benefits include lower costs, a wider choice of materials, and packaging that adds value for end consumers. But packagers who've been exposed to the principles of cradle-to-cradle design acknowledge there are many hurdles to overcome before cradle-to-cradle packaging becomes a reality.
One example of a cradle-to-cradle product cited at the meeting is Kodak's single-use camera. Kodak, which controls the entire lifecycle of the cameras, including recovery, keeps much of the content of this product traveling in a continuous loop. As a result, they boast 86% recycled or reused materials, with some camera content back on the store shelf in as little as 30 days. Better, Kodak recovers the economic value of the materials, ostensibly reducing its raw materials costs. Cradle-to-cradle proponents say the same is possible with packaging.
Get retailers involved
Participants in the meeting learned more about the principles of cradle-to-cradle design and heard a short but dynamic talk by architect William McDonough, who along with chemist Michael Braungart originated the cradle-to-cradle concept. The two wrote a book titled Cradle to Cradle: Remaking the Way We Make Things.
At the meeting, one of the most frequent themes among participants was the loss of control over their packaging that many manufacturers have experienced at the hand of the large retail chains who now call the shots.
"It's the [retailers] who are dictating the most egregious of our packaging designs," said one packaging executive who preferred to remain anonymous. "I've tried to ask them if we could have a different design that's [more environmentally sustainable] and the answer is 'Sure, but we won't sell it.'" (Because of the sensitive nature of some of the discussion at the meeting, most attendees preferred to be quoted anonymously.)
Both packagers and suppliers at the meeting felt that retailers must be educated on the principles of cradle-to-cradle design because they could potentially be a part of a package-recovery solution. At the minimum, any package-recovery solution needs to be a multi-company effort. It cannot be accomplished by any one company alone, attendees agreed.
Designing for recovery
One big concern was the environmental and economic viability of any package-recovery cycle. "At what point does the impact of the recovery cycle outweigh the value of the materials themselves?" asked one participant.
The question of economics, say the proponents of cradle-to-cradle, can be addressed at the design stage. One reason today's packaging is often not economical to recover or recycle is because it was never designed for true closed-loop recovery or recycling. That's according to Ken Alston of GreenBlue, which conducted and facilitated the meeting. GreenBlue is a new non-profit founded to facilitate the adoption and implementation of the principles of cradle-to-cradle design. Alston also spent a number of years at S.C. Johnson, much of that time on environmental packaging issues.
One attendee articulated it this way: "We have to start thinking [closer to the beginning of the design phase], instead of saying, 'This is what we're stuck with, now how do we recycle it?'"
However, achieving cradle-to-cradle packaging involves more than just the design phase, noted another participant. At most companies, said this executive, the packaging people work on design issues, environmental affairs people work on collection issues, and end-market development may even be the responsibility of a third group. Often these groups don't work together. Only an integrated approach that brings together expertise around all three critical issue areas—design, collection, and end use—can lead to environmentally optimized packaging, the participant noted.
Perhaps one of the biggest hurdles for cradle-to-cradle packaging to overcome is the on-the-go lifestyle for which most value-added packaging is ultimately designed. "If you go to focus groups and ask people what they want, they want to save time," said one attendee. "What is a replacement for time? Convenience. You gain time by buying disposable products because you don't have to clean them. Convenience is what's driving the purchasing cycles of consumers." Meshing consumer convenience with the cradle-to-cradle design philosophy will be challenging, the group acknowledged.
Next steps
The cradle-to-cradle design concept clearly engaged the participants. The consensus at the meeting was to proceed with the formation of an industry working group. At press time, it appeared the next meeting will likely be held at Pack Expo Las Vegas. Details can be obtained by contacting GreenBlue.
No one is under any illusions that moving toward cradle-to-cradle packaging will be easy. That was best captured in the comments of Bob Giangiorgi, recently retired from Sonoco, and also on the board of the Clemson University Packaging Science program.
"The way the industry operates today is going to have to change in many ways to capture the potential value of the cradle-to-cradle concept. There are many key issues influencing effective implementation. For example, more collaboration earlier in the product/package development process will be required. An industry working group is something that's very important to address the key issues. If it's not tackled by a group like this, then I think we'll continue on with the current approach and no significant improvements will be made."
For an article that explains cradle-to-cradle packaged design more fully, see: packworld.com/go/w096
For more on the book, see: packworld.com/go/w067
See sidebar to this article: Who attended
See sidebar to this article: Seven reasons to start a cradle-to-cradle packaging group
Companies in this article
Videos from All Packaging Machinery Corp.