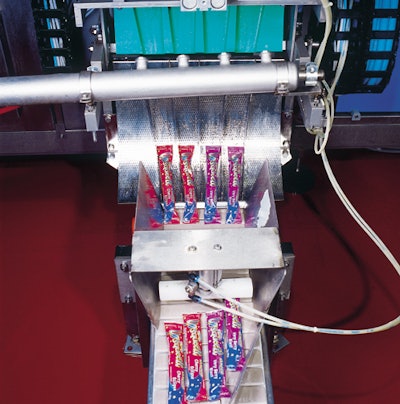 In the course of visiting packaging operations around the country in recent months, Packaging World editors have noticed that more packagers are co-packing products for other firms. That's not likely to make network news, but it could indicate that packagers are facing mounting pressures to find new ways to fatten sales during lean economic times. Co-packing might also be a simple way to better utilize packaging equipment and justify its investment.
To learn more about packagers who co-pack, PW contacted several of these companies. Many declined, preferring not to reveal their strategies. Three companies who did agree to talk were Stonyfield Farms, DreamPak, and SipTop Packaging.
Excess capacity
John Daigle, vice president of operations of Londonderry, NH-based Stonyfield Farms attributes about 8% of the yogurt maker's business to co-packing other company's products. "We're basically a consumer packaged goods manufacturer and distributor, but we do have some excess capacity on our yogurt cup and tube-filling equipment. The excess capacity is a bit of both design and overestimating," Daigle notes.
"As a category, single-serve yogurt cup sales have flattened around the country in the past couple years," he continues. "At the same time, our productivity and efficiency on the equipment has increased. That combination has afforded us some available equipment capacity." A similar scenario developed with yogurt tube production.
"Co-packing can be a lucrative business," Daigle says. "Under-utilization of equipment is expensive, so being able to use the machinery [for co-packing] is a good opportunity. We're doing it both for cups and tubes of yogurt."
Worth the costs
Daigle says the benefits of co-packing make it worthwhile, but he points out there are serious factors to consider. "We have different customers we co-pack for, and it's difficult because it means we have to oversee more inventories of packaging materials and maintain them. That's a bit of a challenge."
Also challenging is "the complexity and the infrastructure needed to support co-packing. It's a totally different customer than your own retail customer. For co-packing customers, you've got to realize they have their own marketing needs, seasonal fluctuations, and they're relying on your company to make their products, so you have to be able to fulfill every commitment you make.
"You have to adapt your own production schedule for your branded products and co-packed products," Daigle continues. "You have to be able to adjust for order changes and have the right materials on hand. And you have to be able to schedule extra days and extra labor to meet the customers' needs."
And then there's the likelihood that Stonyfield Farms products will compete with those the firm produces for co-pack customers. "That's always an interesting situation," Daigle chuckles. "But you have to look around and understand that it's part of the business. You have to ask yourself if you want to participate in it or if you just can't produce product for competitors."
Despite the challenges, co-packing makes sense for Stonyfield Farms. "When you compare the factors involved in utilization of machine capacity versus all the 'hassle factors' involved in co-packing, it's still worth doing. It's a growing business because these companies become business partners, and as they grow and their products become more successful, it becomes a larger part of our business."
Machinery permits co-packing
New Berlin, WI-based DreamPak is a new firm trying to establish its processed cheese and nutraceuticals products in the marketplace. DreamPak produces its own SoluFlex and SoluFlex Plus unit-dose nutraceutical "gels," with a texture resembling a soft gummy candy. It also hot-fills processed cheeses into single-serve, shaped packs. It packages similar cheese and nutraceutical products for other companies, with business divided about 50-50 between making its own brands and co-packing products for other firms.
To make the shaped packs, DreamPak invested in two used thermoform/fill/seal machines. "We're a small, privately owned company," explains Randy Cook, vice president of operations. "We found two similar machines available for a good price. One was from a dairy in New Zealand that our owner had seen running. The other was from Saudi Arabia, where he knew the owners of the machine."
The equipment produces "shaped packaging with colorful film that catches consumers' attention and provides us a way to differentiate our products. As we understand it, we're the only ones in the United States operating these machines. They give us a technology to produce three-dimensional packages. When we bought the equipment we did so with co-packing in mind, as well as to do our own products. We were just getting started and we knew we'd have excess capacity, so we wanted to co-pack to better utilize our equipment."
Pouch prompts co-packing
SipTop Packaging, based in Mississauga, Ontario, Canada, has developed a stand-up pouch for 250-mL pouches of Rip&Sip-brand purified water, with plans to market it in Canada and the United States.
The flexible pouch includes a sipping tube printed with graphics that identify two areas where the tube can be torn off. One area is near the top of the tube for sipping. Tearing at the second area where the tube is slightly wider permits pouring.
"The pouch functions like a drinkable yogurt where you tear open the top and drink from the package," explains Grant Joyce, president and CEO. "There's a design patent on the pouch that includes a built-in constriction to limit spillage if the pouch topples over on its side." He notes that by later this year, SipTop expects to market a line of juices in the pouch as well.
He says, "We wanted to have a product to offer retailers as a way to demonstrate to other beverage companies the potential of this packaging." Whether it's SipTop's own beverages, or co-packed offerings, Joyce realizes the company must be able to provide sufficient quantities of the pouch to fill orders. To do so, he explains, "we are making an investment in a completely automated filling line in Mississauga to produce these pouches, which are difficult to fill. In the past six years, millions of dollars have been invested to make this work, and we are now building a fourth-generation machine."
He says, "Our ultimate business objective is to license our filling technology to beverage companies and contract packagers."
Assigning personnel to co-packing
Stonyfield's Daigle says his company does not presently have a "formal manager for co-packing. We run our co-packing business through our logistics operation."
Since DreamPak purchased packaging equipment with the idea of co-packing, "we hired a national sales manager, Justin Gauvin, who had contacts in the nutraceutical products area here and outside the United States," says Cook. "He also had some history with the used equipment we purchased."
"I'm selling our co-packing business, and also using brokers and manufacturing representatives," says Gauvin. "I travel to nutraceutical companies, attend trade shows, and I recently spoke at WestPack regarding our gel delivery system, which is a combination of product and the unit-dose pack we produce on the two machines.
"We can make up to 100ꯠ units per eight-hour shift on each of our two machines, so that's a lot of capacity. That gives us flexibility in how we can service our own brands, and those of our customers," Gauvin says.
At SipTop, Joyce and a sales representative in the United States will market the company's co-packing efforts. He says having a new line to produce pouches will be an important factor in acquiring co-packing business.
Determining pricing
As for its pricing strategy, Joyce says, "We know what our own costs are, and we have kind of a 'factory-door' price. We also consider what the retail price is for an eight-ounce pack of pouches, then factor in what kind of mark-up a distributor and retailer would expect. We would look to be price-competitive, and even offer a slight price advantage."
At DreamPak, Gauvin explains, "We're approaching retailers to pack private-label brands, and co-packing for sports nutritional products and nutritional supplements. We started with a launch of our shaped Cheese Animal products to stores in the Midwest." He says that product will help the company build a track record with the new products. It will also likely help determine pricing. "The pricing structure for co-packing includes covering our overhead costs, and adding a workable profit margin to it," he believes.
Stonyfield Farms, on the other hand, gained first-hand pricing knowledge by farming out some work to other contract packagers. "We have about eight to ten percent of our products packed for us," Daigle estimates. "There are some technologies we don't have, such as for yogurt beverages. For us to fill those products in-house, we'd need to make a major capital expenditure. But with capacity already available outside, these products can be produced for us at a competitive price, so it's a win-win situation for us both."
Daigle says, "Pricing is the most difficult part of [co-packing]. It's a delicate situation where we want to price the service attractively, but make sure we're not losing money. We evaluated what others were charging us per pound, or per case, and that helped us establish a benchmark."
Daigle says the company evaluates its internal plant costs, and its costs for materials, storage, labor, and machinery time. Another factor is volume. "Contracts usually state the highest and lowest amounts of volume we'd be looking at [in a co-packing arrangement]. Usually as volume increases, prices would typically drop a little bit because we're able to count on that business and have longer, more efficient runs. So, we can provide a more attractive price for them."
The Stonyfield Farms vice president believes packagers who co-pack for other companies will become more commonplace.
Daigle says, "you'd be surprised at the evolution [of how many packagers are co-packing] over the past few years. Companies who have been [strictly] manufacturers are really looking hard at their cost structures and often realizing they have capacity available on their equipment, and they can't just let the machinery sit there. I think a lot of branded companies today are looking at those opportunities."